Brexit Could Jeopardise UK Climate Policy: Committee
Environmental and climate change standards and policies governing the UK could slip after the country leaves the European Union, warns a report by the upper house of parliament's EU Energy and Environment Sub-Committee, published February 14.
The House of Lords' Brexit: environment and climate change report points out that EU environmental law has been stitched together from a range of normative acts and standards, backed up by references to the role of EU institutions and member states, and has been extensively interpreted by the Court of Justice of the EU. "Maintaining existing standards through the Great Repeal Bill will be an immensely complex task," it says.
"Environment legislation and policy will be more vulnerable to short term, unpredictable changes after Brexit. Maintaining policy stability will be critical to ensure both investor confidence in the environmental sector and civil society's ability to engage with these policies," the report says.
Effective enforcement of EU laws has been just as important as the laws themselves and the report says that "UK government seems to be worryingly complacent about the loss of this enforcement regime." In order to fill the vacuum post-Brexit,an effective and independent domestic enforcement mechanism, underpinned by judicial oversight, will be needed.
The report also recommends that government should review means by which the UK may be able to continue to influence the EU's environmental and climate change policies.
The committee chairman, Lord Teverson (Liberal-Democrat, pictured) said February 14: "We heard evidence that 80% of the public support at least the same level, if not higher levels of environmental protection post-Brexit. We need to continue to work together and protect our shared environment for future generations."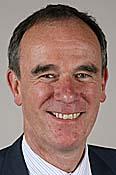 House of Lords' EU Energy and Environment Sub-Committee chairman, Robin Teverson (Credit: House of Lords)
But also, it says, the UK is a global leader on climate action. If it is to maintain this status, and to mitigate any loss of influence arising from leaving the EU, the government should identify other countries and country groupings it can align itself with globally, while continuing to adopt leading climate actions domestically," it says.
The UK is expected next month to trigger Article 50 of the EU treaty, firing the starting-gun for the two-year talks with the European Commission that will decide the terms on which it leaves the EU. There is no meaningful precedent to follow.
William Powell