BP To Drill New Azeri Acreage
BP plans to drill four exploratory wells in three new Azeri blocks in 2019, BP's Azerbaijan strategy vice president, Bakhtiyar Aslanbeyli, told NGW Dec 15.
Currently BP operates the Shah Deniz and Azeri-Chirag-Guneshli fields, which provide about four-fifths of Azerbaijan's sales gas and oil production. It has also signed deals to explore three new blocks, including in the shallow waters of Absheron peninsula, Shafag-Asiman and Gobustan, the first of which is expected to contain oil, and the two others gas.
Aslanbeyli said that two exploratory wells (to a depth of 1000-1500 meters) will be drilled in Absheron's shallow waters, one in Shafag-Asiman (6,500-7,000 meters) and the other onshore Gobustan (4,000 meters). BP is the operator of all three blocks.
Azerbaijan has another deal with French Total to develop the deep water offshore Absheron field, which is not related to BP's shallow water block offshore the Absheron peninsula.
Aslanbeyli said: "In Absheron's shallow waters of 3-5 meters depth, we firstly plan to create an artificial island, like in the Kashagan field [also in the Caspian Sea but offshore Kazakhstan], then the drilling would start. Coming to Shafag-Asiman, it is estimated to hold largest dry gas reserves in the Caspian Sea after Shah Deniz. Finding gas in the deeper layers of Gobustan is also highly possible, but not in such quantities as the large offshore Caspian fields."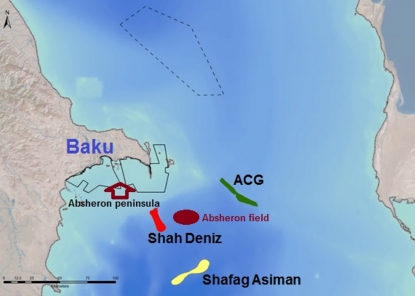 Azeri fields in the Caspian Sea above ; below BP Azerbaijan vice president Bakhtiyar Aslanbeyli (Credit for both: the company)