BP Reduces Azeri Flaring
Flaring at the BP-operated Azeri-Chirag-Guneshli (ACG) offshore oil field has fallen significantly in the past decade, according to the UK major.
It declined by 77% to just 163mn m3/yr between 2007 and 2017, BP's vice president for regional safety and operational risk issues Orkhan Guliyev told NGW December 25. He said that flaring reduction continued into 2018, with the updated statistics due out in the coming months.
However a source at state-run Socar told NGW that, according to preliminary statistics, Azerbaijan's total flaring (including BP-led projects) was 200mn m3/yr in 2018, about 78% less than in 2008 when 901mn m3/yr was flared. He said that less than a fifth of total flaring happens in Socar-led fields with 5.9mn metric tons of CO2 equivalent emissions.
BP operates ACG and the Shah Deniz gas field, which together produce four fifths of both oil and gas in Azerbaijan. Nearly all flaring comes from ACG, which flared a total of 8bn m3 associated gas since 1994 - mainly in the period up to 2007. Guliyev said that BP-led projects' flaring in Azerbaijan was lower than its European projects' flaring level in 2017.
Azerbaijan's 2017 flaring intensity was among the lowest in the world, the head of the World Bank's GGFR flaring reduction initiative told NGW in August, commending the country.
Recent gas flaring at the ACG oil field (in million m3)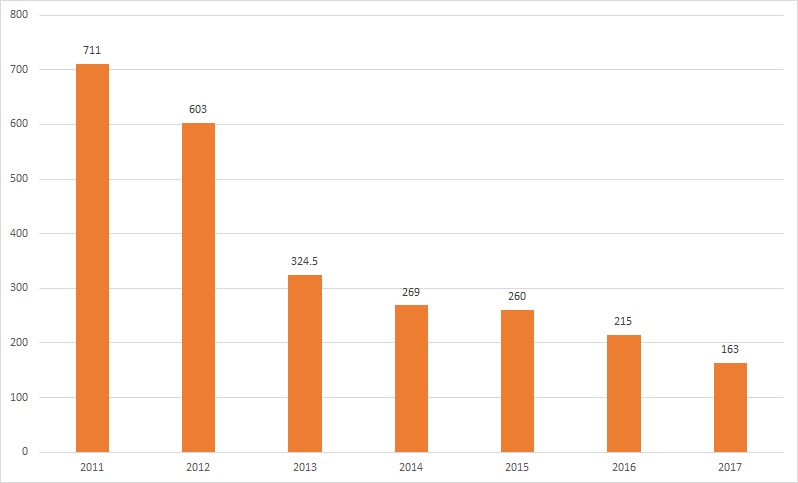 Source: BP statistics, seen by NGW