BP Chief Says Involving Gas, Oil Best Way to Reduce Carbon
BP CEO Bob Dudley told an industry gathering in London October 10 that the world faces a choice – following this week's IPCC call for emissions to be halved by 2030 – of whether a wedge should be driven between energy companies and environmental objectives, or instead whether a collaborative path is chosen.
The most optimistic outlook was that renewables could supply one-third of the global energy mix by 2040, he said, which means that oil and gas must play a part.
A collaborative approach to a low-carbon future should be the way forward, he told the Oil & Money conference.
He said that $2 trillion was written off the value of oil and gas stocks worldwide in the first six months of the 2014-15 oil price slump. Painful though that was, the industry had emerged more disciplined – and BP was determined to maintain such cost-discipline: "We plan for a $60-$65/b future, not $80/b."
"A more systemic risk is under-investment in oil and gas," he argued. Imagine if $2 trillion were under-invested by the industry; it would have damaging implications for the global economy and financial stability, he said.
The industry invests about $100bn/year, so there was opportunity to turn around investment towards a lower-carbon future even in the space of a decade – despite the industry's pattern of long-term investment, he said: "The transition is likely to be measured in decade, not years."
Dudley said that BP believes in disclosure and transparency, and publishes a scenario that it believes can achieve a 2 degrees Celsius limit on global warming. But it was opposed to excessive disclosure, such as forecasting financial impacts on its business over a time-scale which it cannot predict, arguing that would be no help to investors and "a gift to class-action lawyers."
"We need to help renewables push coal out of the power mix," the BP chief urged, and that meant investing in natural gas – as it has half the emissions of oil and coal – remarking wryly how, when he joined the industry in 1979, no-one wanted to find gas.
The epicentre of emissions today is that one coal-fired plant is being built per week in one of eight Asian countries, he argued, adding that banks that turn down loans to 'fossil fuels' in general are not helping – as what was important is "the enablement of natural gas" in helping to reduce emissions overall.
Asked if the IPCC report this week was alarmist, the BP CEO said rather it had been a "call to action" and a "good thing" in not only involving oil and gas companies, but also agriculture, industries such as steel, but also households, noting that energy saving and efficiency remained important across all these sectors in reducing emissions.
BP had recently invested into a UK solar panels manufacturer, Dudley noted, and solar plants were now being added at BP operations in Oman and Egypt so that more of their gas production could be sold.
Dudley later told NGW that he was confident of the BP-operated West Nile Delta phase 2 gas project coming onstream by the end of this year, and that increased production overall in Egypt could help transform it into a 'gas hub' – but he did not respond directly to whether BP might sell some of its future gas there as LNG, saying the country had been in a gas deficit for some time.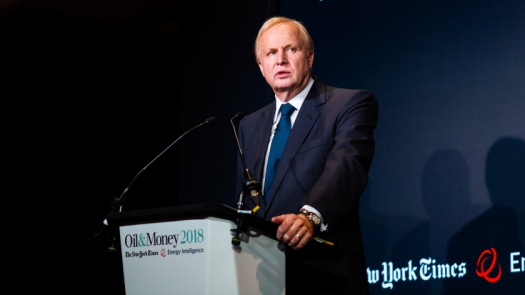 Dudley at the Oil & Money conference, October 10 2018 (Credit: BP)