Big Oil Commits Another $1bn to Climate
Ten major energy companies that form the Oil and Gas Climate Initiative (OGCI) – none of which is from the US – are going to spend an extra $1bn over the next ten years in order to meet commitments to cut carbon dioxide emissions, they said November 4. The Paris Agreement came into force that day, imposing greenhouse gas emission limits on countries across the globe.
"This new, additional investment will complement the companies' existing low emissions technology programs and will draw on the collective expertise and resources of the member companies," the companies said in a joint statement.
"OGCI Climate Investments (OGCI CI) will aim to deploy successfully-developed new technologies among member companies and beyond. It will also identify ways to cut the energy intensity of both transport and industry," they said, adding the investment showed an unprecedented level of oil and gas industry collaboration and resource-sharing in this space.
Mongstad carbon capture and storage plant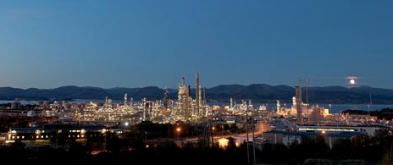 (Credit: Statoil)
"Through discussions with stakeholders and detailed technical work," the OGCI says, "it has identified two initial focus areas: accelerating the deployment of carbon capture, use and storage; and reducing methane emissions from the global oil and gas industry in order to maximize the climate benefits of natural gas." The companies that set up the initiative are: UK BP, China's CNPC, Italian Eni, Mexican Pemex, India's Reliance Industries, Spain's Repsol, Saudi Aramco, Anglo-Dutch major Shell, Norway's Statoil and French Total.
Wood Mackenzie's latest analysis and preliminary outlook on energy demand shows the emissions goal implied by the current version of the Paris Agreement is likely to be missed. Developed countries have committed to emissions cuts they will be unable to make without additional efforts to decarbonise their economies. Such efforts include increased energy efficiency, greater focus on renewable energy and the trend towards electric vehicles.
Paul McConnell, research director for global trends at Wood Mackenzie, says: "Emerging markets should meet their Paris Agreement targets with relative ease, given these are in general not much of a constraint on development. Some emerging economies may choose to go further on emission constraints, particularly if there is any political ground to be gained by 'climate leadership'."
But NGOs and other external actors are certain to demand all parties do more to ensure the Paris Agreement meets its self-proclaimed goal of limiting global warming to 2 °C above pre-industrial levels, he said.
"Hydrocarbon fuel consumption is in the firing line, and energy sector impacts are being felt already, despite Paris Agreement targets not kicking in until the end of the decade," he added.
The vice-president in charge of the Energy Union, Maros Sefcovic and the commissioner for climate action and energy Miguel Ariast Canete hailed the entry into force of the Paris Agreement, ahead of the COP22 meeting in Marrakesh, Morocco November 7-18. Both stressed the importance of maintaining momentum, in a statement.
The US is reducing the carbon footprint of the power sector as cheap gas has displaced coal. In the European Union, gas has only recently overtaken coal in some countries, as the carbon price set by the market is too low to make any difference. And a very cold winter, as forecast for the UK for example, could once more see coal use rise as gas demand for heating rises.
William Powell