Bavaria Risks 2022 Energy Crunch - Wintershall
Germany's affluent southern state of Bavaria risks an energy crunch by 2022 unless it generates more power from gas, warned Wintershall CEO Mario Mehren at an industry event on September 6.
Because of the government's nuclear phase-out programme, Bavaria will face a baseload shortfall of up to 4 gigawatts by 2022, Mehren told the German Energy Congress in Munich.
"In 2022 if not before, Bavaria will face difficulties with its electricity supply," he said. Bavaria would have to shut down three currently-operating nuclear plants by then, amounting to 4 GW, and have to import a large share of its electricity from elsewhere in Germany or beyond instead.
The CEO advocated natural gas as the pragmatic solution for electricity generation, adding that existing gas pipelines in northern Germany could offer an alternative to building expensive new power transmission lines in order to balance electricity supplies.
Renewable energies cannot fill the Bavarian nuclear gap, at least not at affordable and responsible prices, said Mehren, whereas gas-fired power plants that could stabilise the electricity grid are not yet being deployed sufficiently.
Federal government plans envisage wind-power from the north being wired across the country to the south, but the building of additional electricity lines is going much more slowly than planned, with generators and utilities blaming both Berlin and the grid operators.
Wintershall says that one solution would be to scale up the use of gas-fired power plants in Bavaria. "We would be well-advised to find long-term solutions. In a few years, when nuclear disappears from the market, we will need guaranteed capacities for generating electricity," said Mehren.
Uniper, the spinoff company from E.ON that runs the large modern Irsching-4 and Irsching-5 gas-fired plants in Bavaria, earlier this year launched legal action against grid operator TenneT, arguing that the market is structured such that Uniper must keep the plants operating at a loss under government orders to keep Germany's power system balanced. Renewable power has first call into the market, which can depress prices for gas-fired power.
Gas plays an important role in Bavaria's economy already and can play a larger role, Mehren told congress delegates, adding that one-third of Bavaria's manufacturing sector's energy use is gas currently and that it looks set to rise. Overall 20% of the state's primary energy consumption is gas.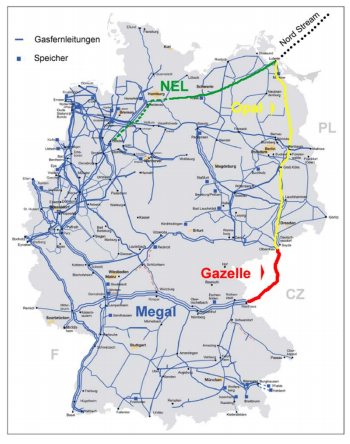 Germany's gas pipelines, with Nord Stream, Gazelle and Megal featured (Map credit: Wintershall)
Mehren noted that in 2011 Wintershall and Gazprom invested over €1bn to build the 470km Opal pipeline from Greifswald on the Baltic Sea coast to the Czech border, enabling gas to reach southern Germany via the Czech pipeline Gazelle that was commissioned in 2013.
But he complained that the EU Commission has yet to approve planned use of Opal's full 36bn m3/yr capacity, which meant only half this can be used currently. "Brussels shouldn't block the planned full capacity utilisation of the German pipeline any longer," the Wintershall CEO urged the commission, adding that he hopes for approval to be granted before winter.
Approval of full Opal capacity may be entangled in the commission's ongoing anti-trust probe into alleged market dominance abuses by Gazprom, launched in April 2015. A week ago BASF-owned Wintershall, a key commercial ally of Gazprom, warned that Europe risks a gas supply gap in 2030.
Mark Smedley