Baltic Pipe Takes FID
The final investment decision (FID) for the 900km Baltic Pipe pipeline was announced by Polish and Danish state-owned gas transmission system operators, Gaz-System and Energinet, November 30 in Warsaw. They are 50-50% partners in the project.
Due to start up October 2022, Baltic Pipe will enable Norwegian gas to flow through Denmark to Poland and their neighbours, and include reverse transmission capacity from Poland to Denmark and Sweden. The FID also brings Baltic Pipe's construction agreement, concluded 10 days earlier, into force. BalticPipe is expected to cost Danish kroner 12bn ($1.85bn) - to be 50-50% funded by co-partners Gaz-System and Energinet - and have up to 10bn m3/yr capacity; it is not yet known how much of the joint partners' costs will be covered by EU grants.
Prior to the FID, Denmark's Energinet signed an agreement with its Norwegian counterpart Gassco regarding construction of the tie-in to the Norwegian gas pipeline Europipe II and a pipeline to the Danish west coast, which will enable gas flow from Norway to Denmark and Poland. Dialogue with landowners and authorities in both Poland and Denmark will continue so that the Baltic Pipe project can be implemented with as little impact on people and environment as possible.
Piotr Wozniak, CEO of Polish state-run gas group PGNiG which has contracted some of BalticPipe's capacity for 15 years from 2022, said: "Construction of Baltic Pipe will finally allow Poland to bring gas from our fields on the Norwegian Continental Shelf. Thanks to this investment we will gain direct access to resources that have been used by other European countries for a long time."
Access to alternative gas supplies such as from Norway, he said, was "essential to stabilise Poland's and central Europe's gas markets". PGNiG expects to have net Norwegian gas output of 2.5bn m3/yr by around late 2022 but has not disclosed how much capacity it booked in BalticPipe. Energinet tells NGW that overall bookings in Baltic Pipe to date total are 8bn m3/yr.
For years, PGNiG has been investing in, or contracting new sources of gas from, Norway and LNG producers (principally Qatar and the US), in order to reduce its dependency on its current main supplier Russia's Gazprom post-2022.
Baltic Pipe says its project consists of five main components:
Gas pipeline on the seabed of the North Sea which will connect Norwegian deposits with the Danish transmission system;
Expansion of the Danish transmission system which will increase gas transmission capacity and lower the average cost of the transfer;
Modern compressor station in Denmark which will enable secure gas supply to both Denmark and Poland;
Gas pipeline on the seabed of the Baltic Sea – the bi-directional connection of the Danish and Polish transmission systems diversifying the supply sources and directions;
Expansion of the Polish transmission system constituting a further step to make Poland a regional gas hub which will reduce the risk of supply disruptions and boost the national economy
Update Dec.3: Norwegian state gas pipeline system operator Gassco noted that Baltic Pipe will require laying a pipeline spur from Norway to Denmark. On Energinet's behalf, Gassco said it has studied connecting the spur to run from the Europipe II pipeline to Denmark and will also be responsible for this tie-in. "A spur to Denmark will open a new landfall for Norwegian gas and thereby lay the basis for direct deliveries to new markets; our most important concern in this process is to safeguard the integrity of Norway's entire gas transport system," said Oystein Rossebø, Gassco's vice president for development and innovation.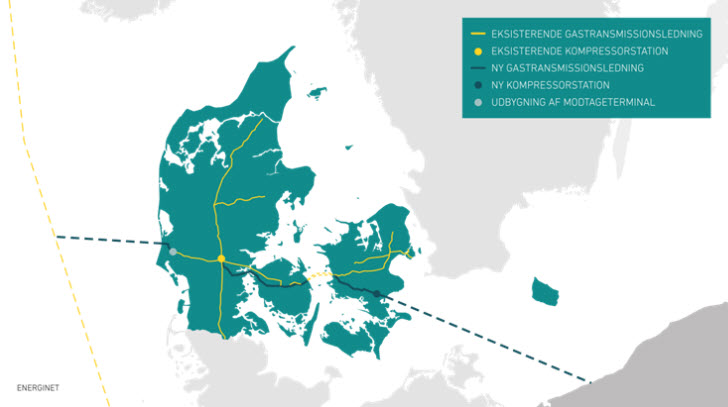 The blue dotted line shows Baltic Pipe's route (Map credit: Energinet)