Baku hits output, export record [NGW Magazine]
He said that 2018 had been a landmark year in Azerbaijan's gas sector, as the Caspian Sea Shah Deniz stage 2 (SD2) project became operational July 31. "Gas production growth will continue in 2019, both from SD and other fields," he said.
An official told NGW anonymously this year that the BP-led SD2 project managed 14.5mn m3 January 6. Output is double what it was in early December but only at one-third of its eventual 16bn m³/yr plateau production.
SD2 started production July 31, 2018; to date 14 wells have been drilled and completed. Because of the very high reservoir pressure, only three out of the four wells at each manifold is producing; the fourth well at each manifold is held in reserve to regulate future production levels.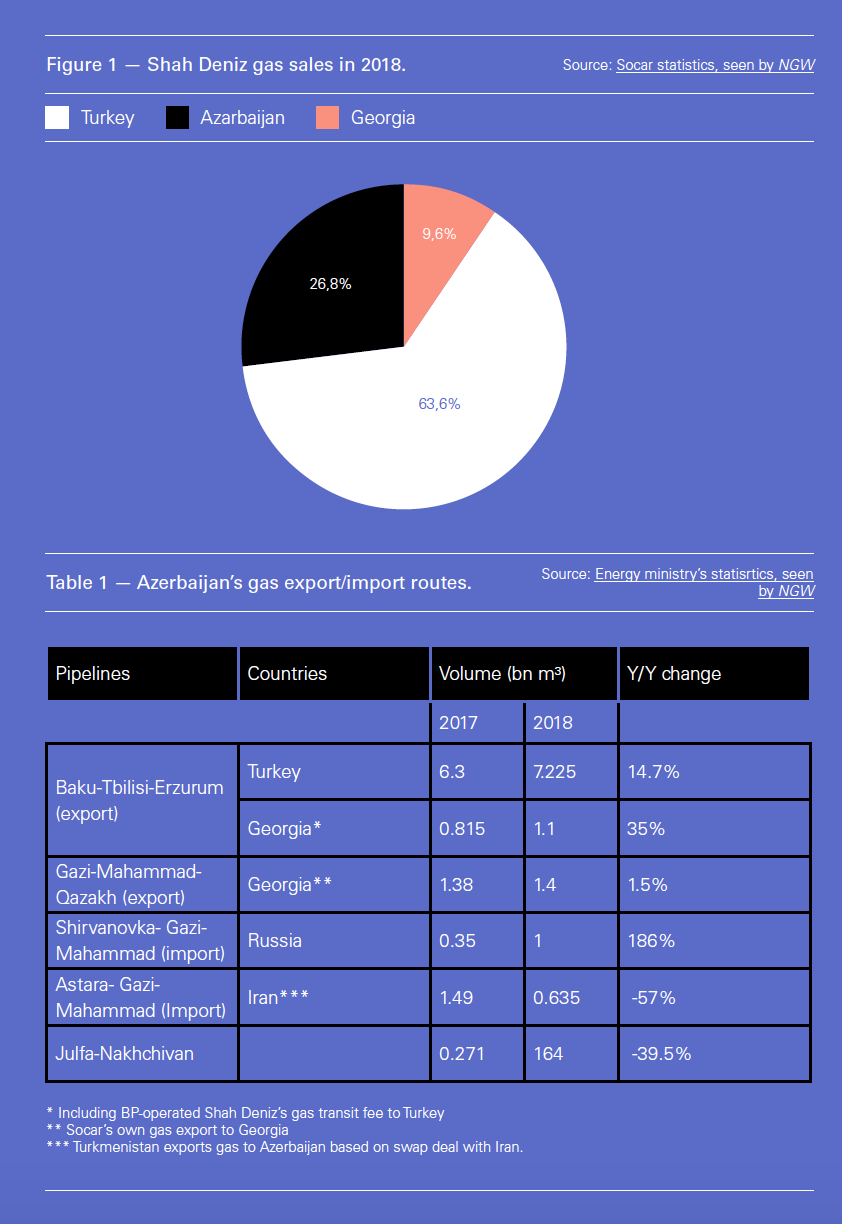 The SD2 offshore project includes the Bravo platform, an eventual total of 26 subsea wells, 500 km of subsea pipes, and is scheduled to reach plateau capacity of 16bn m³/yr in 2020.
The energy ministry told NGWthat last year, both SD1 and SD2 increased production. "In total, output grew 1.195bn m3 or 11.75% to 11.363bn m3, of which 1bn m3 came from SD2."
Socar spokesman Ibrahim Ahmadov also told NGW that some 1bn m³ SD2 gas were exported last year and the volume would double in 2019.
Socar-led fields also increased production by 437mn m3 to 6.526bn m3 in 2018, thanks to the development of the Umid and Bulla fields. The fields' production is expected to grow by a further 730mn m3 in 2019, Ahmadov said.
According to Gurbanov, the production level would significantly grow in coming years with the development of fields such as French Total operated Absheron and Karabakh fields; BP-operated Shafag/Asiman block, and other potential giants. He said: "The Southern Gas Corridor (SGC) can play a big role in exporting further gas abroad."
The 3,500-km SGC is expected to deliver 6bn m3/yr gas to Turkey and 10bn m3/yr to EU starting in 2020 for 25 years in the first step. The project needs another supplier in the second phase, when the deliveries to EU are projected to double in 2025.
Alongside SD and Socar-led fields, Azerbaijan also produces associated sale gas from Azeri-Chirag-Guneshli oil fields (SCG).
Gurbanov said that some 12.5bn m3 gross associated gas were produced from AGC, of which 18.8% was sale gas and the rest was re-injected to fields to maintain oil production. In total, gross gas production volume increased by 7.1% to 30.6bn m3 in 2018.
Gurbanov had told NGW in November that Azerbaijan stopped Russian and Turkmen gas imports on February 1 and October 1, 2018 respectively, but he said January 20 that an extra 200mn m3 gas were imported from Russia in late-2018 and total imports from Gazprom reached about 1bn m3 last year.
The board of directors of Gazprom in October 2017 approved the opening of a representative office in Azerbaijan.
The country also launched petrochemical plants in 2018 and Azerbaijan's natural gas deliveries to its petrochemical sector could almost triple next year, Socar Methanol CEO Elnur Mustafayev told NGW December 20.
Azerbaijan's sales gas production is expected to triple to 55bn m3/yr in 20 years, the executive director of the International Energy Agency (IEA) Fatih Birol said September 2018 in Baku.
Oil production up, thanks to gas
Azerbaijan re-injected further 540mn m3 gas to ACG fields during last year; accordingly for first the country's crude oil production decline pace reached the lowest pace (only 0.58% year-on-year) since 2011.
The overal oil production (including gas condensate) also experienced a growth for first time since 2010, thanking to gas condensate production from SD2, Gurbanov said.
Last year, Azerbaijan produced 38.81mn metric tons of crude oil and gas condensate, about 0.3% more than 2017.
The country produced 28.73mn mt (-171,000 mt) from BP-led AGC and 2.54mn mt from SD last year (+185,000 mt).
Socar-led fields also produced 7.54mn mt crude oil and gas condensate, about 113 k mt more than 2017, thanks to Umid and Bulla fields.
US major Chevron has told Azeri state-run Socar and PB, operator of the Azeri-Chirag-Guneshli block, last December that it plans to leave this project in order to focus on its other businesses, an Azerbaijan government source told NGW December 5.
The source told that, at the moment only Chevron has decided to leave the project, by selling its 9.75% stake in ACG as well as its 8.9% share in the Baku-Tbilisi-Ceyhan oil pipeline.
The BP-led ACG consortium signed a 25-yr extension contract in September 2017 to spend more $40bn on ACG by 2050, compared with the $43.5bn already spent since 1994, of which $35bn was capital expenditure.
The source also said that there are no concerns about the future. "Total and Statoil [now Equinor] left Azerbaijan's other BP-led giant project Shah Deniz in 2013. Total sold stakes to Petronas, and Statoil sold to Socar and BP; Shah Deniz has not faced any challenges and will develop according to plan."
---
TAP sews up finance
William Powell
The TransAdriatic Pipeline (TAP) project completed financial close in December 2018, securing €3.9bn ($4.5bn) from a range of lenders that made it the largest project finance agreed for a European infrastructure project in 2018.
The costs had previously been funded in full by TAP's shareholders: UK major BP (20%), Azerbaijan producer Socar (20%), three European pipeline operators (Italian Snam, Belgian Fluxys and Spanish Enagas, with 20%, 19% and 16%) and Swiss utility Axpo (5%).
The final link of the European Union-supported Southern Gas Corridor, TAP's total project cost is €4.5bn. It will connect in Turkey to the Trans Anatolian Pipeline (Tanap) for which the European Bank for Reconstruction and Development (EBRD) approved a €500mn loan in October 2018, as did the EIB in March 2018 for a €932mn loan. It finishes in southern Italy, where there has been stiff local opposition to the project. Its first phase will carry 10bn m³/yr to Italy and flows will be bi-directional. Like Tanap, it may also be doubled.
TAP CEO Luca Schieppati said in a January 11 statement: "TAP has voluntarily committed to comply with environmental and social standards required by the international financial institutions.... With project financing now concluded, TAP can progress to the final completion of the project and delivery of Shah Deniz II gas in 2020."
The European Investment Bank's energy head Andrew McDowell said it recognised "the important contribution to improving security of energy supply in Europe that the Trans Adriatic Pipeline will bring and has provided €700mn for this, the largest energy project in Europe currently being built." He said the bank was pleased to be the anchor lender alongside the EBRD and other leading financial institutions.
The EBRD's director for sustainable infrastructure Nandita Parshad said: "The Trans-Adriatic Pipeline will set the foundation for an integrated gas market across south-eastern Europe and enhance the region's strategic status as an energy hub. We believe that gas remains an important transition fuel in this region that can help displace coal and facilitate penetration of renewables."
The financing is provided by a group of 17 commercial banks, alongside the EBRD and the EIB. Part of the financing is covered by three export credit agencies (ECA): bpifrance (€450mn), Euler Hermes (€280mn) and Sace (€750mn). The project raised €3.765bn in third-party senior debt with a door-to-door tenor of 16.5 years, combining commercial debt along with development financial institutions and ECA financing:
EIB Direct Facility, benefiting from a guarantee from the European Union under the European Fund for Strategic Investments EFSI: €700mn
EBRD A-Loan: €500mn
EBRD B-Loan: €500mn funded by commercial banks
Commercial term loan facility: €635mn directly provided by commercial banks without any ECA or multilateral involvement.