Baker & McKenzie Report on Shale Gas in Algeria
1. Introduction
Algeria is the third largest natural gas producer in the Arab world, after Qatar and Saudi Arabia, and the leading exporter in Africa. It is also a significant oil producer. However, in recent years both oil and gas production have slowed, with oil production falling to its lowest level since 2003 in January 2013 and gas output dropping by 7.6% between 2005 and 2013.
In an attempt to address this declining production and give a much needed boost to the economy (25% youth unemployment rate), Algeria is taking key steps to develop its 707 trillion cubic feet ("tcf") of technically recoverable shale gas reserves.[1] On 20 February 2013, Algeria enacted Law no. 13-01 amending and supplementing Law no. 05-07 of 28 April 2005 relating to hydrocarbons ("HL"), to specifically cover the exploration and production of unconventional hydrocarbons. Algeria thus became the only country to have legislated specifically for unconventional hydrocarbons developments in Africa, giving it a major advantage compared to other shale rich countries in the continent.
Keen to maintain Algeria's advantages, on 21 January 2014 the National Agency for the Development of Hydrocarbon Resources ("ALNAFT") launched its fourth licensing round, which is its first to offer concessions over unconventional prospects.[2] Bids must be submitted to ALNAFT by 10.00 (Algerian time) and will be opened at 10.30 (Algerian time) on the same day, with a view to sign contracts on 5 September 2014.
2. Regime applicable to shale gas projects
Pursuant to Article 3 HL, the Algerian state is the owner of all hydrocarbon resources. However, the Algerian state has no direct participation in hydrocarbon exploration and production activities. Instead, ALNAFT, which is an independent agency, enters into contracts with international oil and gas companies ("IOCs") for the exploration and production of hydrocarbons on the Algerian state's behalf.
The exploration term under the HL is 11 years. This can be extended for a maximum of 6 months if necessary to complete the exploration of a well and provided such well was drilled prior to the end of the original 11 year period. Relinquishment obligations are dictated by the terms and conditions of the concession. In general, areas not covered by the development plan approved by the Ministry of Energy and Mines ("Ministry") will have to be relinquished at the end of the exploration term.
The exploitation term for unconventional hydrocarbons depends on the nature of the resource. For unconventional liquid hydrocarbons, it is 30 years, and for unconventional gaseous hydrocarbons it is 40 years. Both periods are subject to a maximum of two 5 year extensions. Any unused exploration period can be added to the exploitation period.
In terms of a state participation and carry, Algeria's state owned oil and gas company, Sonatrach, is required to take a 51% interest in all exploration and exploitation contracts (Article 32 HL). The contractor usually bears the exploration costs. However, for unconventional projects, the HL includes an option for Sonatrach to participate in such costs. This is a recognition of the significantly higher costs for such projects.
The right to flare and to access to a large amount of water are key to unconventional projects. In Algeria, the position is as follows:
In addition to these issues, domestic market obligations, third party access to infrastructure and the fiscal and tax regime will have to be considered.[3]
3. Key shale gas basins
The EIA has identified the following basins as having technically recoverable shale gas resources in Algeria: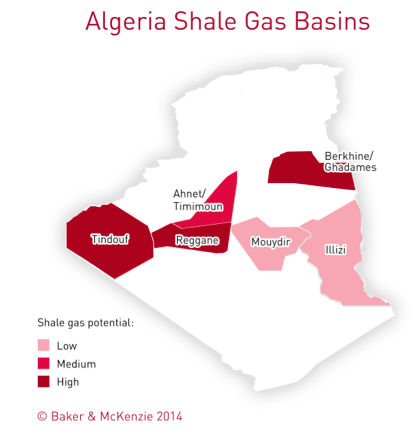 4. Market update
To date, Royal Dutch Shell, Eni and Talisman have exploration licences for shale gas in Algeria. In addition, Anadarko has expressed an interest in developing shale gas resources in Algeria.
In January 2014, it was rumoured that Exxon Mobil reached an agreement to begin exploration with an Algerian partner. On 18 February 2014, it was reported that Algeria has asked Russia's Gazprom and Lukoil to tender for the joint development and exploration of some of the country's fields. Some of these fields are located over shale plays.
5. Challenges
Last year's amendments to the HL represent a positive step towards encouraging investment into shale gas in Algeria, as the law now provides certainty and a regulatory framework to rely on.
However, the development of conventional and unconventional hydrocarbon reserves in Algeria continues to face a number of challenges. The terrorist attack on the In Amenas gas facility in January 2013 has, for example, raised security concerns for oil and gas investors, and probes into Sonatrach and the Ministry in 2010 have highlighted that corruption is still a risk in Algeria. Given that ALNAFT's last three licensing rounds resulted in only 25% of the offered concessions being licensed, it remains to be seen how successful its fourth round will be and whether IOCs will demonstrate an appetite for Algeria's unconventional reserves.
6. Further information
For further information please see Baker & McKenzie's Shale Gas, an International Guide, which provides a regional examination of shale gas operations and offers a unique analysis of local law and key contractual issues in ten "Hot Countries" for shale gas projects: Algeria, Argentina, Australia, China, Poland, Russia, South Africa, United Kingdom, Ukraine and the United States. For a copy please contact Michelle Brown or visit www.bakermckenzie.com.
---
[1] See Energy Information Administration ("EIA") June 2013 report on shale gas resources.
[2] 31 concessions are on offer: 6 in the North (Cheliff II, Boughezoul, Hodna East, Ain Beida, Melrhir and El Ouabed), 7 in the centre of the country (Mouydir Nord, Mouydir Sud, El Agreb Nord, Zelfana Est, Bled Safia, Zeriba and Amguid), 6 in the east (Hassi BirRekaiz Sud, Timissit, Boukhechba, Gara Tisselit II, Tan Elak and Tinhert Nord), and 12 in the west (Tamzaia-Oued Namous, AbadlaKenadza, Erg Chech, Guern El Guessa Sud, Timimoun II, Bechar, Msari Akabli, Akabli Nord, Rezkallah, Tindouf Ouest, Tindouf Est and Tindouf Sud). 17 of these concessions cover unconventional deposits.