Australia prepares for Beetaloo push [Gas in Transition]
The Australian government recently released its strategic plan to accelerate exploration and development in the Beetaloo sub-basin in the Northern Territory, believing it to have the potential to be a "world-class" gas province. The development of Beetaloo, situated within the larger McArthur basin, will increase gas supply, create jobs and drive significant economic growth in the Northern Territory and across Australia, according to the government. Beetaloo's gas could supply a variety of markets, it said.
"The A$224mn (US$173mn) Beetaloo Strategic Basin Plan sets out bold, innovative and cooperative actions to accelerate gas development and seize the opportunities presented by the natural resources in the Beetaloo," Keith Pitt, minister for resources, water and Northern Australia, said. Beetaloo is one of five gas basins Canberra wants to develop as part of its gas-led economic plan.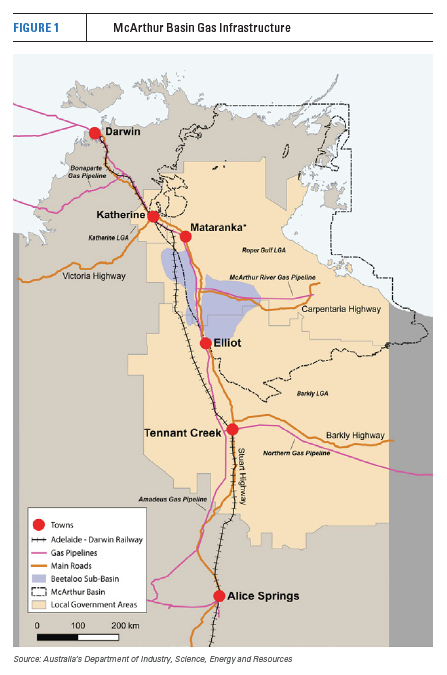 Increasing supply of gas to the eastern and southern states is a priority for the government. The Australian Competition & Consumer Commission (ACCC) warned in February that Australia's southern states faced a gas supply shortfall in the next few years. In addition to encouraging exploration, the government also recommended the timely development of north-south pipeline infrastructure and east coast LNG import terminals as potential solutions.
The Beetaloo sub-basin covers 28,000 km2 and comprises mainly of vast, rolling plains. It sits within the larger 180,000 km2 McArthur basin which covers the majority of the northeast of NT. Three key gas pipelines cross or lie near to the region. The Amadeus gas pipeline links Alice Springs to Darwin, while the McArthur River gas pipeline connects the McArthur River mine to the Amadeus gas pipeline. Lastly, the Northern gas pipeline passes to the south of the Beetaloo and links the Amadeus gas pipeline to the Carpentaria gas pipeline at Mount Isa. This provides a link to the east coast market, albeit with a limited capacity.
Estimates of the gas resource in the region vary but, according to the government, the results from preliminary exploration are encouraging. The NT government estimates that Beetaloo holds over 200,000 PJ (5.34 trillion m3) of gas in place.
FIDs by 2025
Current industry analysis indicates that most early-stage Beetaloo exploration will be completed by 2023, followed by four years of appraisal. The first final investment decisions (FIDs) will then be taken once the appraisal phase is completed, shoring up resource estimates, and once environmental and other planning approvals are in place. The government's plan aims to bring this schedule forward, targeting the first FIDs in 2025 or even sooner.
As part of this effort, the government is looking to help gas operators finalise their exploration activities. To help companies reach decisions, it has already commissioned a A$700,000 Beetaloo development study and co-funded, with the NT government, a A$500,000 infrastructure requirements analysis.
The Australian government mid-March also announced the introduction of new grants to support further exploration of the Beetaloo. It said that the A$50mn in grants would be provided through the Beetaloo Cooperative Drilling Programme. This programme will provide grants of between A$750,000 and A$7.5mn to individual exploration projects that take place before December 30, 2022.
Efficient and effective regulation
The national government is also working with state authorities to improve regulation, by establishing new bilateral agreements under national law, including single touch environmental approvals, to help avoid delays.
Under the plan, the government is producing geological and environmental data, tools and knowledge covering the Beetaloo region through its Geological and Bioregional Assessment (GBA) programme. It is also negotiating a Bilateral Energy and Emissions Reduction Agreement with a Beetaloo focus, and is supporting gas operators to understand their regulatory requirements through the Major Projects Facilitation Agency (MPFA).
"Operators consider the global context when making Beetaloo investment decisions," the plan states. "Competitive business settings and efficient regulatory frameworks will enhance the Beetaloo's appeal as an investment destination. There is a role for all governments to ensure regulations fit their purpose."
Infrastructure development
The Beetaloo region is remote, with limited existing infrastructure to support development. The region requires significant investment to be ready for gas development, and this will likely include upgrading roads, rail, pipelines, waste and medical assets.
According to the plan, the Australian government is establishing a new A$173.6mn Roads of Strategic Importance corridor and the A$217mn Northern Territory Gas Industry Roads Upgrades initiative, and is working with the NT government and gas operators to deliver midstream infrastructure.
"Development of the Beetaloo will also require new gas processing and transportation arrangements," the plan said. "Generation of large gas volumes will require additions to the Amadeus gas pipeline capacity. Some developments may require expanded gas transmission routes to the east coast or additional LNG export facilities."
Sharing regional benefits
To ensure that Beetaloo sub-basin development benefits local and indigenous communities, the Australian government has invested A$1.9mn to develop a Beetaloo Aboriginal Economic Development Strategy, and is delivering a Regional Development and Benefits Strategy under a memorandum of understanding with NT authorities.
The government is also establishing a A$2.2mn Barkly Business Hub, and will work to identify the resource requirements needed to ensure positive outcomes to traditional land owners from Beetaloo's exploitation.
Explorers remain bullish
There are a handful of explorers with a focus on the McArthur basin and Beetaloo sub-basin. Among the prominent ones are Sydney-listed Armour Energy, London-listed Falcon Oil and Gas which is in partnership with Origin Energy, Santos which is in a joint venture with Tamboran Resources, Empire Energy and Pangaea Resources. Most of them are conducting early-stage exploration but have significant plans for the next few years.
Empire announced a resource upgrade in early February for its 100% owned and operated EP187 permit located in the Beetaloo sub-basin. It said that Netherland, Sewell & Associates had prepared an updated independent resource report utilising the technical results of the Carpentaria-1 drilling programme. The best estimate prospective gas resource for EP187 increased by 47% to 3.5 trillion ft3.
"This is an outstanding result and a further step towards commercialisation. The upside case indicates that Empire Energy's Velkerri shale could be a A$1bn-plus asset," Blue Ocean Equities said in a report.
Morgans Research in a separate report said that it supports the early development options Empire has and the clear support the basin has from the NT and federal government. "There is likely to be more capital required to expand the drilling programme but if those wells can prove the consistency of the resource across tens of kilometres of ground, then the upside for Empire Energy's resource could be significant," it said.
Empire will start a flow testing programme at Carpentaria-1 to assess which zones within the Velkerri formation are likely to provide the optimal flow rates. The company has received NT government approvals to carry out these flow tests and the hydraulic stimulation involved in them. Tendering for this work is well advanced with operations expected to start in the second quarter of 2021.
Morgans Research expects that future horizontal pilot wells to be drilled around Carpentaria-1 could be converted to production wells.
Taylor Collison, another research firm, said in a report published mid-March that Empire represents one of few pure, independent and highly leveraged exposures to the "transformational potential" of the Beetaloo/McArthur basins. "As more data comes to hand, we expect the economic confidence level to grow and highlight that [Empire] is sitting on an extensive (and transformational) gas resource," it said.
Armour, another significant player in the region, said in early March it was planning to demerge its Northern basin oil and gas business into a newly formed company – McArthur Oil & Gas – to be separately listed in Sydney. McArthur Oil & Gas will be demerged from Armour through an in-specie share distribution to existing shareholders. An initial public offering (IPO) and capital raise of A$60-A$65mn has been proposed to fund the acquisition of Northern basin assets from Armour and to fund forward exploration. The company has also raised A$11.5mn to progress the proposed demerger and IPO of McArthur Oil & Gas.
Falcon discovered gas in January at the Kyalla 117 N2-1H ST2 well. In March it announced the 2021 Beetaloo work programme which includes the resumption of clean-up operations and the start of an extended production test at Kyalla 117. The London-listed firm said the programme, being undertaken with its joint venture partner Origin Energy, would also drill the Velkerri 76 vertical well, and perform a production test at Amungee NW 1H.
"This year's programme covering three different plays in the Beetaloo will provide key information that will help determine the future appraisal and development programme," Falcon CEO Philip O'Quigley said. "The prospect of multiple positive results is exciting, and we look forward to providing these results as soon as they become available."