Armenia Cuts Gas Price Again
Armenia has announced that it plans to reduce the gas price for domestic consumers for the second time this year,
The second decline in gas price comes after Gazprom negotiated a lower transit fee with Georgia and cash payments rather than gas. Previously Georgia took 10% of the Russian gas it delivered to Armenia.
Russia reduced the gas price for Armenia from $165 to $150/"000 m³ in April, which led to the first gas price fall in July.
A spokesperson for the public services regulatory commission (PSRC) of Armenia, Mariam Stepanyan, said Gazprom Armenia (100% owned by Gazprom) had applied to the PSRC with the request for the revision of tariffs for gas.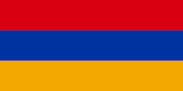 Currently Armenians pay $210-242/"000 m³ for gas, depending on what category of consumer they belong to.
Armenia's energy ministry announced November 2 that the country has signed a memorandum of understanding to increase gas imports from Iran as well.
Iran barters about 1mn m³/d of gas for Armenian power. Iran has also announced a plan to triple gas exports to Armenia by 2019 and will also sell gas to Georgia through Armenia.
Azerbaijan desk