Argentina Orders Siemens Turbines
Siemens said it has received orders from Argentina for nine gas turbines.
They will provide a combined electrical capacity of some 500 MW and help fight Argentina's power shortfall. Seven SGT-800 turbines were ordered by the independent Argentine power producer Albanesi, while two Trent 60 machines were ordered by SoEnergy, said Siemens November 29.
Siemens will supply two SGT-800 to each of the power plants in Rio Cuarto and San Miguel de Tucuman, and three in Ezeiza; all will be made in Sweden and the batch include Siemens' 300th SGT-800 order. The two Trent 60 turbines will generate in the gas-fired power plants in El Salto and Rio Tercero; they will be made in the USA and Canada.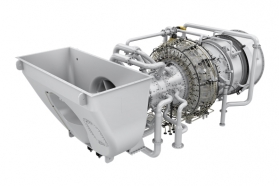 SGT-800 industrial gas turbines are rated at 47.5 MW, 50.5 MW and 54 MW (Photo credit: Siemens)
Power consumption in Argentina is growing at a rate of around 6% annually, said Siemens, which meant that to meet growing demand, the country must invest extensively in new power plants
Mark Smedley