Aramco builds gas momentum [Gas in Transition]
State-backed Saudi Aramco is continuing to build out its gas capabilities as the company restricts oil output in line with the Kingdom's OPEC+ quota.
With Saudi home to 9.4 trillion m3 of natural gas reserves according to the International Energy Administration (IEA), Aramco achieved a single-day gas production record of 303mn m3 in August 2020, as it averaged 255mn m3/day of natural gas alongside 28mn m3/d of ethane and 200,000 b/d of unblended condensate over the year.
For Riyadh and Aramco, increased gas production is a long-term strategic goal that will reduce crude burn for electricity generation, thereby increasing the availability of crude oil for export by as much as 1mn b/d in peak summer months.
Gas will also be key to Aramco improving synergies with chemicals specialist Saudi Basic Industries Corp. (SABIC) in which it agreed to acquire a majority share in 2019, with the latter's chemicals margins seen improving significantly on the back of improved feedstock availability.
Driving the expansion
Key to the gas expansion is the development of the unconventional Jafurah basin to the east of the supergiant Ghawar oilfield. Jafurah, which holds an estimated 5.7 trillion m3 of gas, is Saudi Arabia's largest deposit of unconventional gas and is expected to produce 57mn m3/d of sales gas by 2030 along with 11.8mn m3/d of ethane and around 630,000 b/d of NGLs and condensates.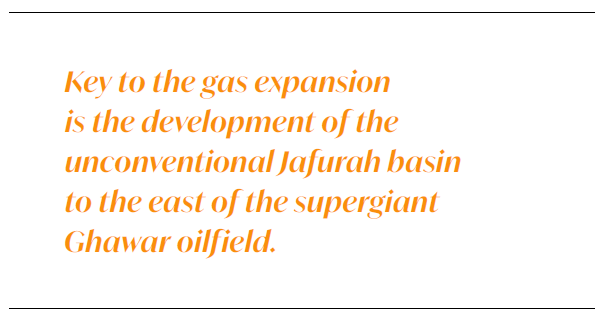 The company kicked off work at the field in November, having awarded 16 contracts for subsurface and engineering, procurement and construction (EPC) work valued at $10bn for the Jafurah Gas Plant and gas compression facilities, infrastructure and related surface facilities.
Aramco said: "This will allow for the reliable delivery of gas and condensates through a dedicated surface network that includes a gas processing plant, a gas compression system and network of around 1,500 km of main transfer pipelines, flow lines and gas gathering pipelines."
Peak output from the company's unconventional gas programme alone is seen replacing "around half a million barrels of crude oil per day that would otherwise have been used for domestic consumption" in the power sector, with Jafurah accounting for roughly 60% of this.
New discoveries
With work ongoing at Jafurah, exploration efforts are continuing elsewhere in the kingdom as Aramco looks to add to its reserves. In February, energy minister Prince Abdulaziz bin Salman Al Saud announced that Aramco had discovered new gas fields – three conventional and two unconventional – in four regions of the kingdom, providing flow rates but no resource estimates.
Shadoon gas field was discovered 180 km south-east of Riyadh, with test wells flowing at a rate of 765,000 m3/d of gas and 3,300b/d of condensate.
The Shehab and Shorfa fields were both found in the south-eastern Rub' Al-Khali (Empty Quarter), to the southwest of the giant Shaybah oilfield. Shehab flowed at a rate of 878,000 m3/d of gas, while Shorfa produced 489,000 m3/d of gas and 50/d of condensate.
The unconventional Samna field was discovered south of Ghawar in the oil-rich Eastern province, with three wells flowing at a combined rate of 756,000 m3/d of gas and 193b/d of condensate.
Another unconventional discovery, Umm Khansir, was made in the Northern Borders Province, and flowed at a rate of 57,000 m3/d of gas and 295b/d of condensate.
Maintaining momentum
The upstream effort is set to be sustained with Aramco hiring US services firm Schlumberger in mid-March to carry out gas drilling. The US company said that the integrated project "encompasses drilling rigs and technologies and services, including drill bits, measurement while drilling (MWD) and logging while drilling (LWD), drilling fluids, cementing, and completing wells," noting that it will leverage digital solutions to enhance drilling performance.
Meanwhile, last year, Aramco was reported to be restructuring its gas business line for its Northern and Southern Area Gas Operations (NAGO & SAGO) teams to streamline the reporting process as gas gains a more prominent position in the company. As with oil, the southern area of focus accounts for the majority of Saudi gas resources, covering the Hawiyah and Haradh gas reservoirs at Ghawar and Shaybah, however, Jafurah falls under the remit of the unconventional resources business line, which falls under the upstream umbrella.
The heightened importance of gas to Aramco was highlighted by the company's recent $15.5bn deal to lease and then lease back a 49% stake in its new Aramco Gas Pipeline Co. (AGPC) to a consortium of investors – including BlackRock – for 20 years. While the Saudi firm will retain full ownership and operational control of its gas pipelines, it will pay a tariff to use the extensive network which includes the Master Gas System (MGS), a 272mn m3/d grid that transports gas from the reserve-rich Eastern Province to population hubs in the centre and west of the Kingdom. Work to expand the capacity of the MGS by around 85mn m3/d is ongoing ahead of the anticipated increase in the availability of gas.