Algeria's tortuous E&P reform [NGW Magazine]
Algeria's interim government approved a new energy law October 13. According to the government, this has been designed to attract international investors to the energy sector.
State-run oil company Sonatrach put forward a new strategic plan for the period to 2030 but in order to become effective it needs to be backed by an updated energy law.
The interim president, Abdelkader Bensalah, said that "the draft will allow us to start deep reforms in the energy sector and implement a development plan for Sonatrach." However, it still needs to be approved by the parliament and it has attracted the ire of protesters who claim that the interim government has no legitimacy or authority to make such changes.
The standoff between the protesters and the government started in February, contributing to the resignation of the previous, long-serving, president, Abdelaziz Bouteflika, in April.
These developments have caused political paralysis that are now affecting the country's economy, hastening the need for reforms in key sectors such as hydrocarbons, banking, insurance and telecoms.
Algeria's gas production has declined; domestic consumption is up; global gas prices remain low; and public finances are becoming increasingly strained.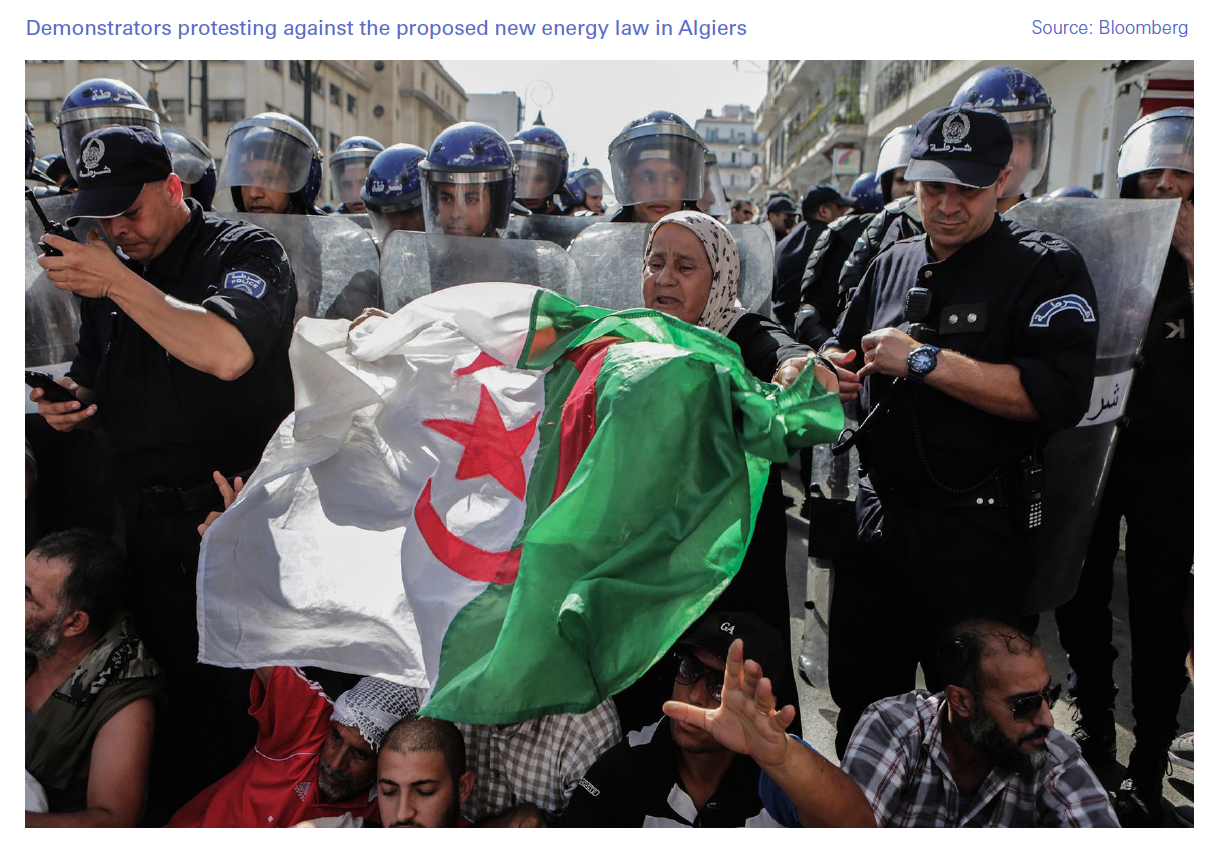 Political turmoil
Following the Bouteflika's resignation in April, the protests have not stopped, and are now raising questions about the ability of Algeria's oil and gas sector -- which is so crucial to the country's economy – to continue functioning effectively and unhindered. The future is decidedly unclear.
The announcement of the newly approved energy law on October 13 brought protesters back onto the streets. Mid-October was the 35th week of continuous mass demonstrations, and they still continue. On November 1, demonstrators -- marking the 65th anniversary of war of independence from France – continued demanding a 'new revolution', opposing the government's proposed elections in December and asking for sweeping reforms.
The sheer numbers of demonstrators have even rendered the powerful military powerless to take any serious direct action to end them.
Under-30-year-olds constitute about 70% of a rapidly growing population, and about a quarter are unemployed, swelling the ranks of protesters, calling for a total political overhaul. Algerian society is undergoing major transformation, demanding a new, stable, governance model.
So far political unrest has not directly affected Sonatrach's operations or Algeria's oil and gas production (Figure 1) or exports. Most Algerians see the hydrocarbons sector as too important for the country's economy and would not want to disrupt it.
But ambitious hydrocarbon sector reforms could be at risk if political turmoil continues into next year.
The interim government is planning to hold presidential elections December 12 and has already selected five candidates, but mostly former senior politicians. Elections were in fact scheduled on an earlier date, July 4, but were cancelled by the constitutional court. The army sees December's presidential election as the only way to calm the protests and end the constitutional stalemate and the head of the election authority has promised full transparency.
But demonstrators, angry at unemployment, corruption and an out-of-touch elite class, have said the vote cannot be free or fair if the military and senior officials tied to Bouteflika retain political power. They are demanding a longer transition period led by individuals who were not associated with the Bouteflika regime and wider reforms before elections can be held. Even though the authorities are gradually tightening the screw -- by arresting some prominent protesters -- the resolve of protesters to continue demonstrating does not appear to be waning.
Continuing political paralysis is hurting the country's economy, with the risk that it could turn so far largely peaceful demonstrations into violence.
Sonatrach's 2030 strategy
Sonatrach first proposed a new strategy in September 2017, called Project SH2030, launching it formally in April 2018. This outlines priorities and objectives for the next decade, to simplify bureaucratic procedures and turn the company into an integrated organisation.
This strategy includes raising the company's efficiency through the deployment of innovative technology, and through improved exploration, drilling and operational performance. Strategic actions include developing unconventional resources, the petrochemical industry and renewables, particularly solar energy and diversifying LNG exports to Asia. Sonatrach aims to focus on value instead of volumes.
In order to diversify electricity production and free hydrocarbons for export, Algeria adopted a 'Renewable Energy and Energy Efficiency DevelopmentPlan' in 2015, aiming to install 22 GW by 2030 – to contribute about 27% of its electricity generation. But by 2018 renewables contributed only 0.2% of the country's primary energy consumption. It is also hoping to achieve a 10% reduction in energy demand through the implementation of efficiency measures. But with stability and reform still lacking, these have a long way to go.
Sonatrach proposes to achieve transformation of the company by deploying a new organization, and implementation of new core processes in business planning and performance management, human resources, procurement and logistics, engineering and project management.
SH2030's goals for 2030 are to double annual discoveries from 50mn toe (tons oil equivalent) to 100mn toe, double drilling productivity, optimise well performance and increase production. These are to be supported by the creation of a central engineering and project management organization responsible for executing projects with a large capital expenditure.
Other goals include increasing non-conventional and offshore hydrocarbon resources, as well as solar energy (Figure 2). Downstream sector goals include diversifying 50% of gas to new markets, focusing on petrochemical projects that create most value and reinforcing and integrating refining with petrochemicals. Sonatrach also plans to expand internationally to access additional reserves, acquire foreign refining capacity and develop international trading capabilities by establishing new partnerships.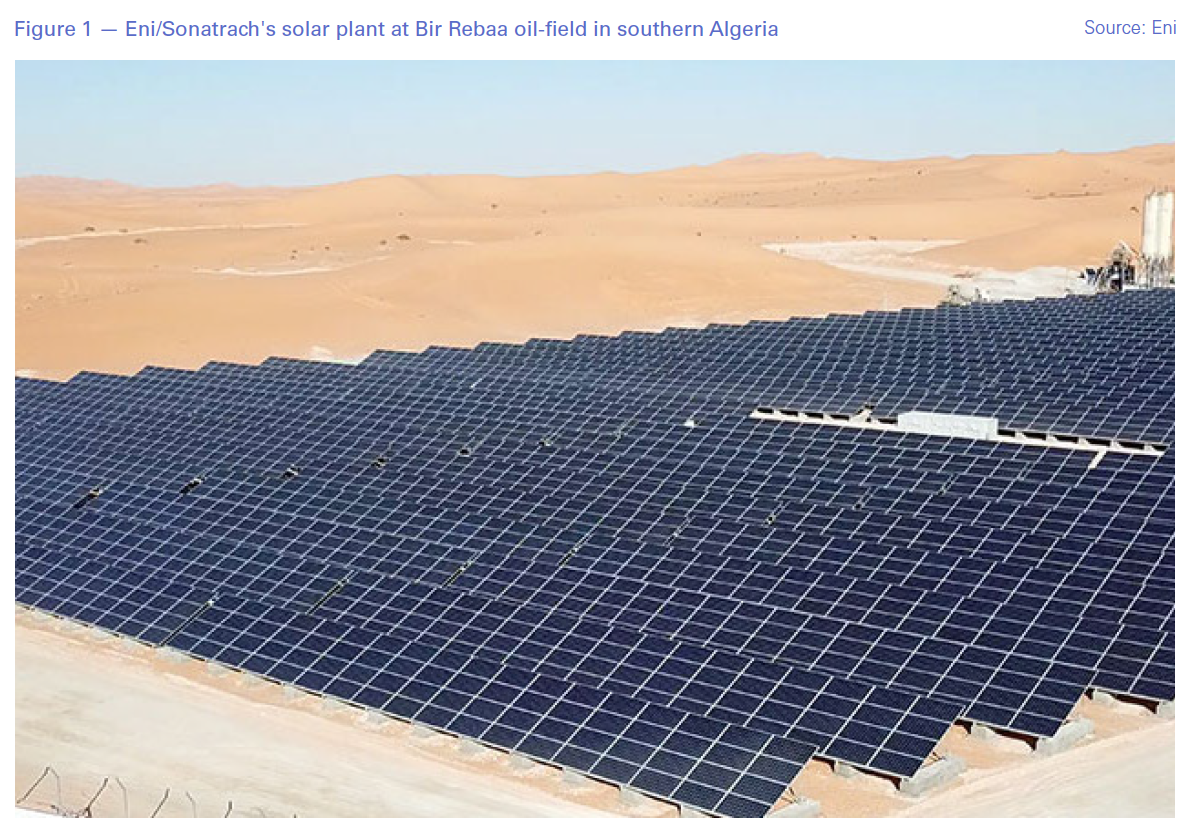 This transformation will be a two-stage process. First, to turn around the company's fundamentals – business, core processes and culture – over the first five years, to be followed by turning competence into excellence and preparing the company for energy transition.
Realisation of this strategy and declining productivity from ageing oil-fields require new technology and expertise which only international oil and gas companies (IOCs) can provide.
But Algeria's protests and demonstrations that caused the fall of Bouteflika have also stalled Sonatrach's transformation. For this strategy to be effective, it also needs to be accompanied by reform of the energy law to change the tax, exploration and exploitation legal frameworks. Algeria has one of the toughest hydrocarbon taxation systems in the world.
IOCs see these, and bureaucratic procedures, as obstacles to developing projects and to further investment. Algeria ranks 157th out of 190 entries in World Bank's 'Ease of doing business' report. These are the reasons why in the last licensing round in 2014, only four out of 31 blocks were awarded. In fact, since 2005 only 13 contracts have been signed.
These challenges are now becoming more acute as IOCs become more selective where they invest, given the increasing impact of energy transition, entrenched low oil and gas prices, an increasingly competitive international market and better opportunities in other countries. Without change Algeria remains relatively unattractive.
By 2030, Sonatrach aims to become the fifth largest NOC in the world, combining oil and gas reserves, production, refining capacity as well as commercialized volumes of petroleum products. In order to achieve this, Sonatrach's total production will have to increase to more than 3mn boe/day (barrels oil equivalent). Given that the last, and not so successful, licensing round took place in 2014, is indicative of the challenges ahead.
So far the company has had a poor track record in achieving its previous objectives and there are concerns that it will struggle to achieve over-ambitious and unrealistic goals contained in the SH2030 strategy. There are also concerns about political interference, patronage and corruption, that past experience has shown to be endemic and serious challenges. Only a complete overhaul of the country's political system can overcome these.
Already, Sonatrach is entangled in corruption investigations associated with president Bouteflika's regime – with a former CEO, three former vice-presidents and more than ten top managers in jail. If these reforms take longer to complete, they risk undermining and delaying the company's much needed transformation further.
Sonatrach's deals and gas exports
But in the meanwhile, Sonatrach has no option but to carry on business-as-usual.
The company had a rare success over the last year in at least renewing its long-term gas supply contacts with European clients in Spain, Turkey, Italy and Portugal.
During 2017 and 2018 Turkey was the biggest importer of Algeria's LNG exports, with 4.7 bn m3 each year. In September 2018 Sonatrach and Botas extended their LNG contact by another five years. More recently, as part of its SH2030 drive to expand internationally in the downstream sector, in early October Sonatrach and Ronesans Holdings, a Turkish company, signed a contract to build a $1.4bn petrochemical complex at Ceyhan in Turkey to produce propylene and polypropylene.
Spain is the second biggest destination of Algerian gas to Europe, relying on Sonatrach for 55% of its gas imports. The contract with Gas Natural Fenosa – now Naturgy – to supply 9bn m3/yr was extended by 9 years in August 2018. In October this year, Naturgy increased its stake in the Medgaz pipeline – that delivers gas from Algeria to Spain – from 15% to 49%.
In May 2019 Sonatrach extended its pipeline gas supply contact with Eni for 9 bn m3/yr and with Enel in June for 3 bn m3/yr, both to 2030. These cover about 15% of Italy's gas imports. Sonatrach's interests in Italy extend to the Augusta refinery in Sicily – with 10mn tonnes/yr refining capacity - and three oil terminals in Palermo, Naples and Augusta, which it acquired in December 2018 in partnership with Esso Italiana.
These were followed in June by an agreement with Galp for 2.5 bn m3/yr, extending gas exports to Portugal to 2030.
But during the last few years there has been significant volatility in gas supplies to Italy and Spain. By summer 2019 there was as much as 5.2 bn m3 year on year shedding of Algerian gas to the two countries.
In addition, LNG contracts with Total for 10 bn m3/yr and Edison for 2 bn m3/yr expiring by next year have not yet been renewed. Total's purchase of Anadarko's assets from Occidental Petroleum has allowed the French major to take over the Mozambique 1 LNG plant but no decision has yet been announced on Algerian gas.
According to BP's Statistical Review, Algeria's LNG exports fell from 16.5 bn m3 in 2017 to 13.5 bn m3 in 2018. But gas exports by pipeline increased from 36.4 bn m3 in 2017 to 38.9 bn m3 in 2018. Italy and Spain were the top destinations of Algerian gas with 33.8% and 30.4% respectively.
Total marketable gas production was 93 bn m3 in 2017, out of which 52.9 bn m3 was exported, while the corresponding figures for 2018 were 92.3 bn m3 and 53.4 bn m3.
But so far in 2019 stiff competition in Europe due to the persisting low gas prices, and Algeria's oil-indexed gas contracts, has led to a substantial reduction in Algerian gas exports to Europe. This is not expected to get any easier in the period to 2030.
This has led the government to consider developing its petrochemical industry to monetize the country's gas reserves – estimated at 159tn ft3.
The company even held meetings with Chevron and ExxonMobil in September to discuss possible partnerships, but there are no indications how these are progressing. Previous attempts were stalled.
But even though Sonatrach and Total extended their co-operation in 2017 and 2018 through new concession and joint venture contacts, culminating in March 2018 with the start of gas production for the jointly owned Timimoun gas-field, the acquisition of Anadarko's assets in Algeria caused friction, reviving historical, colonial, concerns – also driven by resurging resource nationalism. The initial response from the Algerian energy and mining minister was to block the sale of these assets to Total.
Through the Anadarko acquisition Total has acquired a 24.5% stake – and operatorship – in Blocks 404a and 208, which cover the Hassi Berkine, Ourhoud and El Merk fields, in the Berkine Basin. What also made it difficult is that Total already owns a 12.25% stake in these assets through its purchase of Maersk Oil in August 2018. The combined production from these fields was 320,000 barrels of oil equivalent (boe) in 2018, making Total the biggest oil producer in the country.
But it looks as if sense will prevail, driven by Algeria's need to attract inwards investment in its hydrocarbons sector taking priority. Total confirmed end of September that "closing operations are still ongoing in relation to Anadarko's assets in Algeria." The sale is likely to go ahead, but the interim government is unlikely to take the decision to approve it. It is not just because of Total. Given the political turmoil the country is going through, Algerian officials are unwilling to take such decisions, including progressing discussions with Chevron and ExxonMobil, leaving them until after the elections. The result is uncertainty, with potential new investors waiting to see how political changes will play out.
Hydrocarbon sector reforms
Proposals for the new energy law were first made in January, followed by an updated draft in June. These are designed to clarify areas of uncertainty and make the sector more attractive to international companies, particularly with regards to taxation, and allow implementation of Sonatrach's strategy.
The new law appears to extend oil and gas exploration licenses and the duration of concession and exploitation permits, including for shale gas-fields. It also opens the way to granting contracts by mutual consent rather than through international tenders. It includes three types of contracts: royalty/tax-based concession contract, risk service contract RSC) and production sharing contract (PSC). The latter is preferred by most IOCs. It also takes a pragmatic approach to taxation. In cases where a project's economic outlook is threatened by taxes, it provides for tax reductions to achieve reasonable profitability.
Consultancy GlobalData said: "The new royalty-tax participation contract, in which licensees will continue to be restrained to up a 49% participation stake and to pay surface tax, royalty, hydrocarbons revenue tax, and additional income tax, shows a significantly higher internal rate of return in comparison with the previous regimes' IRRs. Licensees' shareholding in a contract is not limited, with only their share of production (PSA) or revenue (RSA) limited to 49% ─ while Sonatrach pays all the taxes on behalf of the licensees.
"The new bill is a step in the right direction, but improving the petroleum fiscal framework may not suffice as there are other hurdles at the administrative, political, and technical levels, which may prevent licensees from investing in Algeria's upstream sector," it concluded in a comment.
But the government stated that it will maintain the rule by which Algeria would hold at least a 51% stake in any hydrocarbon project with a foreign energy partner. There was an expectation by IOCs that this would be relaxed in some 'non-strategic' cases.
The government has stated that the law aims to provide incentives for foreign investments in hydrocarbons without undermining national interests. But it is unclear whether these proposals will be considered by the IOCs to go far enough to attract major investment. In any case, they will need to be accompanied by political, security and regulatory stability.
In addition, the government plans to remove subsidies on energy and electricity prices and align them to international prices - last year's subsidies were a staggering $8bn, over 4% of GDP. But this is a very sensitive issue, as it will lead to increases in petrol, diesel, gas and electricity prices, and, not surprisingly, it is one of the areas of concern to the protesters. However, the government may introduce social support programmes to address the impact of higher prices. Nevertheless, cutting subsidies is still likely to provoke confrontation and as a result may end-up being off limits, at least for now.
Algeria is the third largest natural gas supplier to the EU after Russia and Norway, but it is facing stiff competition in an over-supplied European energy market. With hydrocarbons constituting almost 95% of the country's foreign currency revenues and 60% of its annual budget, this is becoming a serious challenge, as low oil and gas prices are impacting the country's overall economy. Oil and gas export revenue fell from $60.3bn in 2014 to $35.7bn last year.
But given continuing upheaval and protests and the fact that the government is interim, lacking full legitimacy, implementation of the new energy law this year is becoming unlikely. It depends on resolution of the political turmoil. As a result of these uncertainties, it is likely that IOCs will not take investment decisions in the near future, but will wait and see how Algeria's politics play out.
In the meanwhile, Sonatrach has been stressing the urgency for reform to the hydrocarbons sector. In October, said the need for reform is becoming "urgent" given the state of the country's reserves and exploration activity. Following the approval of the new hydrocarbon law – still to be ratified by Algeria's national assembly – the company stated that an in-depth overhaul of the hydrocarbon law, especially with regards to tax and contracts, was "essential to restore the attractiveness of the sector in the context of low oil prices and increased competition among producing countries to attract new investors." It added that "The new law is vital to enable the company to develop discoveries made in recent years," and that the development of many finds is currently uneconomic due to the tax regime and low global gas prices.
But given delays so far, and the time needed before the benefits of the new can be realized, it will take some time before it has any significant impact on Algeria's gas balance.
Implications
With new projects stalled, Algeria's burgeoning domestic demand for natural gas will be threatening exports within five years (Figure 3) – or earlier if not all upcoming projects are completed. According to BP's 2019 Statistical Review of World Energy, domestic gas demand increased by about 10% between 2017 and 2018, while production stalled. In fact, as shown in Figure 3, gas exports fell by almost 5% in 2018. In order to avoid this and maintain exports, new projects and more discoveries will be needed, which will require new investments and IOC technology.
But a terrorist attack in March 2016 on one of the In Salah facilities (Figure 1) prompted the two foreign operators, BP and Statoil, to withdraw international staff, raising fears about security and safety. Such security concerns are still persisting.
These are the reasons that make enactment and implementation of the new energy law urgent, to revitalise the oil and gas sector, especially given that it takes on average five years to bring new projects online.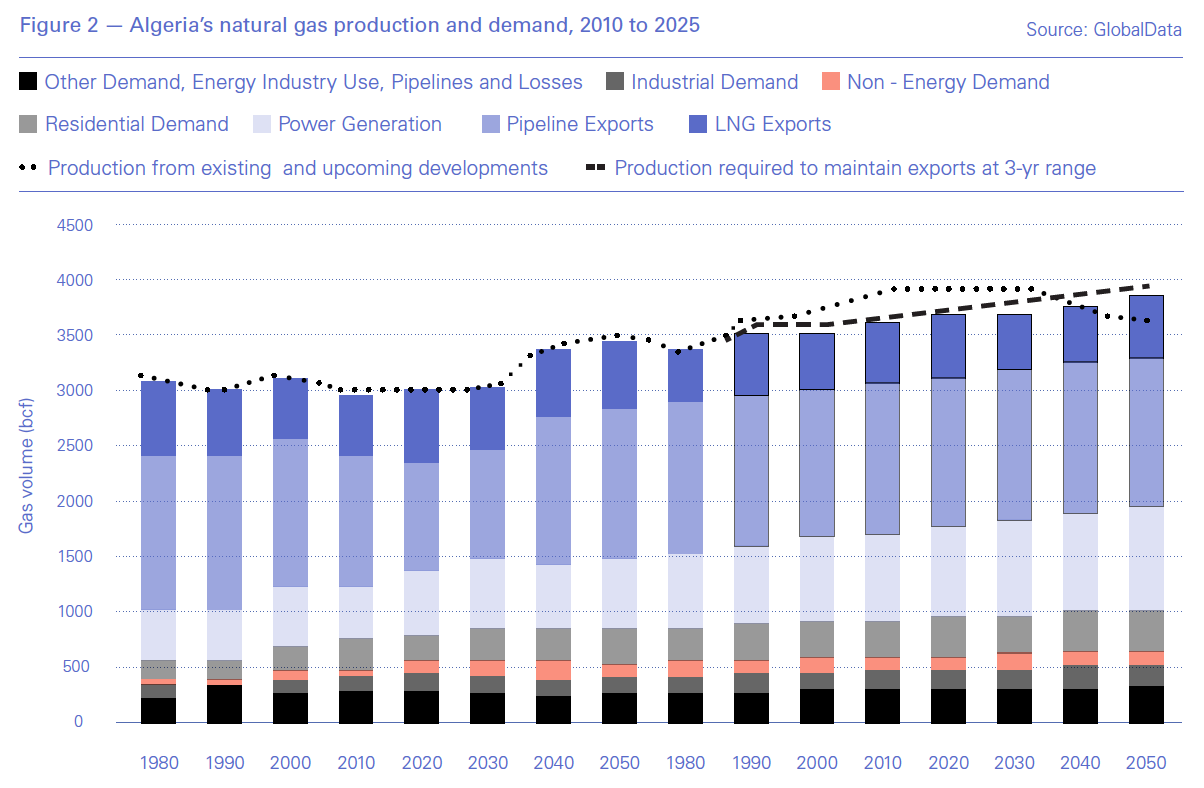 But in addition, to the new energy law, what is needed is a stable political and regulatory environment. Continuing political instability threatens reform and oil and gas production.
And as oil and gas revenues fall short, Algeria is in danger of entering into an economic crisis. The IMF had already warned in a June 2018 report that the country's economic situation was deteriorating inexorably – the situation has worsened considerably since then. Low oil and gas prices have strained the country's public finances, reducing reserves to $72.6bn now, in comparison to $178bn in 2014 when the oil price was $105/bl. These are still falling at a fast rate, threatening the country's ability to provide social services.
Removal of subsidies would help and would also reduce the rate of continuously increasing domestic demand for electricity and natural gas, as it has already done in Egypt. Algeria's domestic wholesale gas price is estimated to be $0.50/mn Btu, well below production costs, fuelling the spiralling domestic gas demand – phasing out subsidies is critical if this is to be brought under control, but it will face resistance.
Mostefa Ouki, senior research fellow at the Oxford Institute for Energy Studies, said that, without change, the increase in domestic gas demand could be more than 50% by 2030, which needs to be compensated for by an increase in production if exports are to be maintained along with the fulfillment of domestic needs. But as Figure 3 shows, gas production in 2018 was actually lower than in 2017, while domestic demand continued increasing, impacting LNG exports. As Sonatrach's CEO, Rachid Hachichi, said recently "Our future LNG projects will be heavily dependent on our new production capacities, particularly from new resources."
With Algeria ranking third in terms of shale gas resources worldwide – with over 700 trillion ft3 of recoverable gas - shale gas has the potential to come to the rescue, but it faces political challenges as well as scarcity of water. Local communities, fearful of potential impact from fracking on scarce water supplies, halted shale exploration near the In Salah gas-field (Figure 1) in 2015. It also requires massive IOC involvement, which inevitably depends on energy law reform and a more conducive political and security climate. Nevertheless, Sonatrach said in 2018 that it is planning to produce about 20bn m3/yr of shale gas by 2030, rising to 70bn m3/yr by 2040 – but it remains to be seen. Given all the challenges shale development faces, it is unlikely to be able to compensate for Algeria's declining gas prospects any time soon.
Algeria is one of the key gas suppliers to Europe but this role is being increasingly challenged by declining production, increasing domestic consumption and stalled investment in its oil and gas sector. This situation is highly volatile and is not about to change, unless successful presidential elections, followed by reforms, take place. And even then, it will be well into the 2020s before such reforms take effect and improve gas export potential.
Until acceptance and ratification of the new energy law, under the legitimacy of a new president, Sonatrach will continue facing uncertainties, with IOC investors staying away. But given the choice of candidates, the next president's legitimacy is likely to be questioned by the protesters. There is an increasing risk that continuing uncertainty and political stalemate will soon start hindering Algeria's hydrocarbons sector and exports.