Adnoc CEO Stays Mum on 2019 LNG Sales
Adnoc LNG's 70% shareholder declined to say how it will market unplaced volumes starting 2019 at an industry event in London.
Abu Dhabi state oil company Adnoc CEO, Sultan Ahmed al-Jaber (above) was asked how volumes currently being sold to Japanese importer Jera will be marketed when the latter's 30-year roughly 4.7mn mt/yr offtake comes to an end – to be replaced by a short-term Jera contract for barely 10% of that volume and lasting only until 2022. He had told the Oil & Money conference in London that he was "not at liberty to communicate our holistic programme for gas" other than saying it would be "another exciting part of our investment to attract new partners."
In particular Al-Jaber was asked by NGW if the unplaced volume – about 4.2mn mt/yr from roughly April 2019 – would be sold on a spot basis, or through long-term contracts not as yet announced, or through joint ventures with existing LNG traders, or whether instead a significant amount of the wellhead gas would be consumed by Abu Dhabi's petrochemical or other sectors.
"All of the above," replied the Adnoc CEO: "We can't comment on our comprehensive Gas Master Plan, but we are confident and optimistic of growing our share of the LNG market."
He also said that Adnoc would not pursue upstream activities outside Abu Dhabi/UAE, and would only invest in petrochemical or refining ventures outside the country.
Adnoc is planning to investing $45bn alongside partners downstream at Ruwais, to the west of Abu Dhabi city, to create a plug and play manufacturing cluster and industrial hub, he noted.
Asked if Adnoc was fast-tracking upstream gas developments – ranging from tight to sour gas – in response to neighbouring Qatar Petroleum's massive expansion plans, al-Jaber replied: "No, we're doing it because we should – as part of our Gas Master Plan."
Adnoc has lately attracted a range of new investors into new and renewed oil and gas upstream concessions, including European and Chinese investors.
Al-Jaber also said that an exploration round, comprising six on and offshore oil and gas blocks in Abu Dhabi covering a total of 13,000 km2, would close later this month and to date had attracted bids from 39 companies from all around the world.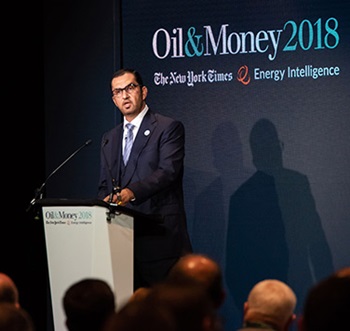 Al Jaber at the Oil & Money conference, October 10 2018 (Credit for this and banner photo: Adnoc)