Russia's Friend at Court in Israel
Avigdor Lieberman, an ultra-nationalist pro-Russian right-wing politician, is expected to be confirmed as Israel's next minister for defense, which could influence the development of Israel's gas industry.
Lieberman was born in Moldova when it was still a part of the Soviet Union and he speaks fluent Russian. He immigrated to Israel in 1978 at the age of 20. Following a short business career he became the director-general of the prime minister's office when Benjamin Netanyahu became prime minister for the first time, exactly 20 years ago this month.
He later resigned this post, established his own party and became foreign minister, a job he held for six years from 2009. From time to time he left politics and became involved in international trade particularly with eastern European and Eurasian regimes. His friendship with Vladimir Putin, the Russian president, is not a secret.
Netanyahu (left) with Putin at their last meeting in Moscow, Russia (credit: the Kremlin) 
Opposition to rapprochement with Turkey
During the last few months when Turkey negotiated the rapprochement agreement with Israel, Lieberman, still in the opposition, sided with the Russian position, opposing the rapprochement and said that it was better for Israel to strengthen its ties with Greece and Cyprus, two of Russia's allies in the region. Israel's outgoing defence minister, Moshe Ya'alon, was also against the rapprochement unless Turkey expelled Hamas operatives from Turkey. Now Lieberman is expected to support Gazprom's engagement in Israel's natural gas market.
Last week, after Lieberman's appointment, he met – accidentally, according to his associates – Yossi Abu, the CEO of Delek Drilling and Avner, two Delek Group's subsidiaries, at an upscale restaurant in Jerusalem. The meeting lasted just a few minutes.
For many years Lieberman has been the main pillar of support for the gas monopoly among Israel's political elite. Uzi Landau, his party member, who served as energy minister at the beginning of the decade, opposed all legislation aimed at raising taxes on producers or limiting their export rights. When those issues were debated and voted in parliament, Lieberman's party objected, despite being part of the coalition.
Lieberman was defeated on both those issues. Lieberman also supported the natural gas framework, although his party voted against it in parliament. Lieberman sought the post of minister for defence, a position now his subject to confirmation by parliament.
Now that his aim has been achieved and the framework has been approved, the Israeli natural gas industry might be on a verge of a new, pro-Russian, era.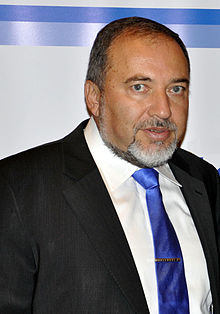 Avigdor Lieberman (Photo: Wikipedia.org)
Winners and losers
A gas deal with Russia would serve a few of the stakeholders well. Russia would gain an important geopolitical coup and would bring Israel, a long-time US ally in the Middle East, into its sphere of influence. It would also enable the Leviathan shareholders to monetize their holdings, something they could not otherwise do, in the foreseeable future because of gas market conditions; Israeli officials might find a Russian involvement attractive as it may secure a second connection from the gas fields to the shore and increase energy security in the country.
A Russian deal would displease the Turkish government who sees Israeli gas as a means of escaping reliance on Gazprom. It would also displease the US administration which, unlike Turkey, would be in a position to try to stop it.
However even if a deal does go through it would not guarantee the development of Leviathan. In the framework there are no binding obligations on gas companies to develop the gas fields and there is no mention of sanctions against them if they do not develop the field by 2019. However bringing Gazprom into play would limit the options of Israeli regulators and the ability of the Israeli government to act against the gas monopoly if they do not adhere to the framework's guidelines.
Ya'acov Zalel