Interview: 2020s: the decade of gas [NGW Magazine]
NGW: What does a European Green Deal mean for the gas industry?
Eurogas: The EU's goal to be climate neutral in 2050 means it has to find the right stepping-stone for 2030. [New European Commission president] Ursula von der Leyen believes 50% or 55% [emission reductions relative to 1990] should be the 2030 target. With the centre-right EPP [the largest group in the European Parliament] rallying behind 50%, we may as well accept that 50% – at least – is going to be the target. It's unlikely member states could get away with less.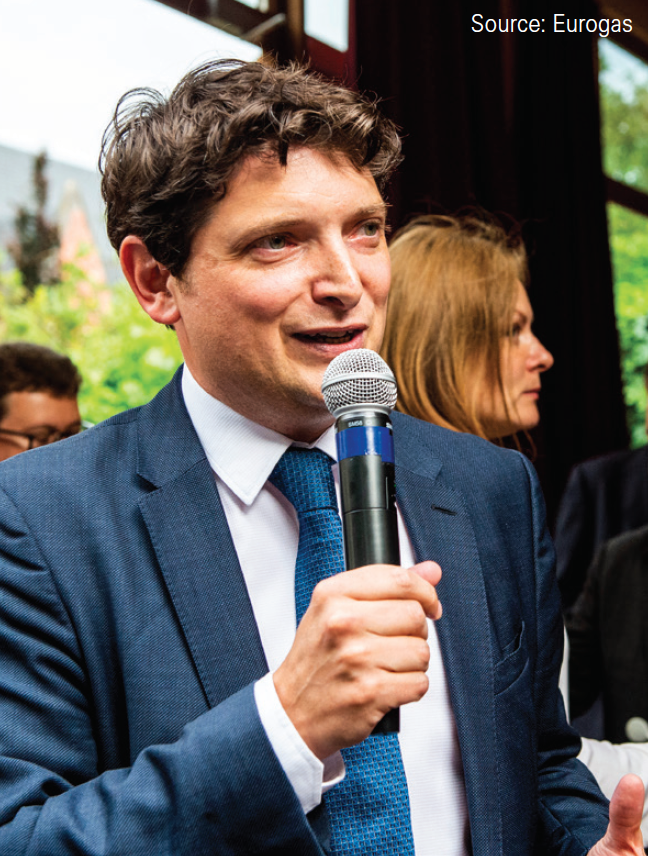 Our view is that gas will play a major role in delivering it. Gas is affordable and abundant. LNG markets are extemely liquid at the moment and the price is as good as piped gas. If you want to reduce emissions by 50-55% in 2030 you are going to do it with gas. A study we did in 2017 showed that a coal to gas switch in power generation alone in Europe would deliver 45% emission reductions in 2030 [up from the current 40% target].
You could also replace oil in heating and bunker fuels in shipping. Some people think the 2020s will be the decade of electricity. I think the 2020s will be the decade of gas. If you're serious about tackling climate change in the short term, you have to use all the gas you've got. Poland, Germany and Belgium all have strategies that involve deploying more natural gas especially in the power sector, and in Poland in heating too.
NGW: How do we realise a big coal-to-gas switch?
Eurogas: You need to make sure you have an EU ETS working as efficiently as possible. We're at about €25/metric ton of carbon today. If you double it, you're already going a long way and if you double it again, you're going to enable technologies like CCS. Gas was already replacing coal this summer in Germany. When you're cheap, people buy you. But [because in the end LNG will still be more expensive than lignite or heating oil] you need a solid carbon price.
What kind of carbon price we get to depends on what kind of EU ETS reform the EC proposes. If they bring buildings and maritime transport into the scheme, it could really drive the price up. But we don't know what they will do. Internally we are looking at CO2 pricing of some sort for the non-ETS sector.
NGW: Is there still a role for CCS in power generation?
Eurogas: We talk about pre-combustion - not post-combustion - CCS these days so the end use could be anything. We're looking at how you split gas at landfall so your volume of natural gas is turned into hydrogen at landfall. The plan is to take care of the CO2 problem before it gets to the consumer, whoever the consumer is. It's true that most projects are now directed at high-temperature heating and industrial processes, but certainly some studies out there, such as one by consultancy Navigant, still have quite a lot of hydrogen going into power generation.
There are three flagship CCS projects to watch in Europe. One is Porthos at the Port of Rotterdam in the Netherlands. The second is Northern Lights, another project to store CO2 under the North Sea. And the third is H21, which is a plan to switch all the heating in Leeds [UK] back to hydrogen. It's a kind of back to the future project because the town used to run on a 50%+ hydrogen mix. If these projects work, that will really show a way forward for CCS, at least for northwest Europe.
For the rest of Europe we see more potential in pyrolysis, which you could apply to the TAP [Trans Adriatic Pipeline] pipeline, for example. With pyrolysis you produce carbon black [rather than CO2] when you produce hydrogen. Companies like BASF have shown it is possible at small scale, but the question is how to scale it up and at what cost. Carbon black is inert and therefore easy to store.
NGW: Will 'green' gases such as hydrogen and biomethane deliver?
Eurogas: We support the European Green Deal and carbon neutrality in 2050 because we believe in hydrogen and biogas. In its "1.5TECH" scenario [one of the scenarios for climate neutrality in 2050], the EC models gaseous fuel consumption at only 28-29% less than today. But almost all of that is hydrogen and carbon-free gases. Only a rump of natural gas would survive in 2050.
The question is how to get from 95% natural gas to a future where about 80% of that gas is carbon-free or hydrogen? A carbon price is a good mechanism because it first drives out coal and [heating] oil and second, it will push in the new gases. As the CO2 price goes up, hydrogen and biomethane will become as competitive as natural gas.
A higher EU ETS price alone will not create a hydrogen economy, however. We need targets. We are currently carrying out a study to work out how much renewable gas you need in 2030 and 2040 if 80% of it has to be renewable in 2050. If you give member states a target, they will provide incentives to meet it. We believe the best support mechanism would be tenders [for public support], but feed-in tariffs are fine too. France is using feed-in tariffs to support a 10% renewable gas target for 2030.
Now all eyes are on Germany. Every German company is in favour of targets. In our view, they're coming. And if Germany and France have targets, the EC will be under enormous pressure to respond.
We expect some indication in a German strategy of where hydrogen will go. For example, will it be used in power generation? I visited a combined heat and power plant moving from coal to gas recently. The CCGT is 30% hydrogen ready. They have space on-site for an electrolyser and hydrogen storage. If such investments are being made, it's because energy companies anticipate a future for hydrogen in power production. Some of the national climate and energy plans for 2030 [that member states have to submit to the EC by end 2019] only talk about hydrogen in transport but that would be a missed opportunity.
NGW: What are your top priorities for a future EU gas package?
Eurogas: We thought the "gas" or as it's now called "decarbonisation" package would be the next major legislative initiative before the Green Deal came along. Now the package is only due out in 2021. Our view is that it has to be part of the Green Deal.
A key issue for us is the ownership of electrolysers and steam methane reformers. Our view is that these should be left to the market. If no one in the market steps forward, then we could accept the regulated asset base doing it under strict criteria, for example for a limited period, similar to what's possible for electrical storage.
We would also like to see hydrogen properly taken care of. In the EU's new renewable energy directive, green hydrogen [made via renewable-powered electrolysis] is recognised as a renewable fuel but only in relation to transport. There is no recognition at all for decarbonised hydrogen made from SMR with CCS. We want the gas directive to set a binding EU target for renewable and decarbonised hydrogen. And the EU's Guarantees of Origin system should be extended beyond transport and to decarbonised hydrogen.
NGW: Can we still justify investments in new gas infrastructure?
Eurogas: Yes we can. The European Investment Bank (EIB) has gone in the right direction. It will continue to fund pure natural gas infrastructure over the next two years. After 2021, you will need to demonstrate your commitment to decarbonised and renewable gases. The bank will still finance small, efficient gas boilers beyond 2021 [without a requirement for renewable gas compatibility]. Replacing coal with gas boilers could reduce carbon emissions by around 40% from the European heating system.
What we find most difficult to accept in the broader sustainable finance discussion is that gas infrastructure is not considered the same as electricity infrastructure. Today 18% of variable renewable power runs through the electricity system and people think that's green. We have 5% in the gas system and that's not considered renewable. It doesn't make sense. For me there has to be a complete rethink on sustainable finance on the infrastructure side.
NGW: Thank you very much.
Green Deal: can it work?
The European Green Deal has the semblance of an historically important event, but the problems it will face when it comes to implementation cannot be discounted, says energy policy consultant and researcher Andrei Belyi. These problems are not only technological and financial but also cognitive and social, he told NGW.
Decarbonisation is associated with electrification and this must proceed at a pace that is right for each country. And while the price of electricity per hourly wage varies widely across Europe, it is safe to assume that all consumers will have to pay much more to finance the move from molecules to electrons.
According to the European Commission's communication of 2018 'Clean Planet for All', electricity should go up from 21% of final energy consumption to anything from 30% to75% by 2050 depending on the scenario. Some calculations estimate this will require 90% more electricity by 2050, and all of it carbon-free, preferably not nuclear.
Most industry, heating and transport will also have to become electrified, further adding costs. Industry will find it particularly difficult and many processes will either shut down or emigrate. And a fund to compensate miners, as proposed by energy commissioner Kadri Simson among others, for their loss of jobs does not address subsequent generations who will also be hit by irreversible change in the labour market. In turn, societies may react by giving preferences to populist manifestos.
The hydrogen economy represents another unknown. Belyi refers to a recent International Energy Agency study, which indicates that if hydrogen is produced from renewable energies – hence green hydrogen – its cost will be significantly higher than the current methane price.
Member states will find it difficult to sell the idea of a more expensive fuel to societies, he said, while populist policies will find a more engaged electorate. The mid-term political effects of gilets jaunes in France are still uncertain: their protests go back to the government's decision to raise fuel taxes.
The EU would do better, he says, to assist switching from coal to gas across the world than to burden society at home with higher bills. Although gas is not clean, it is still half as carbon-intensive as coal and "it is necessary to re-integrate promotion of natural gas into the energy transition concept," he says.
Gas flaring is another area the EC might work on: it constitutes one of the major causes of carbon and methane emissions. Surprisingly, in 2016 the European Commission withdrew from the World Bank programme on gas flaring reduction, and this withdrawal does not help worldwide efforts in abating emissions in the upstream.
In less developed countries, support of technology associated with the third industrial revolution might be premature. He cites Nepal and Kyrgyzstan, both relying about 90% on decarbonised hydroelectricity.
The promotion of decentralised solar panels and electric vehicles should follow, not precede, the upgrade of the distribution grid. And the safe disposal of lithium-based products represents a major environmental risk in some countries. "Dumping old panels on to landfill sites will aggravate climate change because it will affect the biosphere. And we know that climate change is also about biosphere's capacity to absorb greenhouse gases, not only about CO2 emissions," Belyi says.
Another potential problem is the hydrocarbon market and the effects of lower revenues on the world economy. Oil monarchies in the Gulf act as a buffer against Islamic extremism. These revenues are also used to slow the desertification of the region and to diversify their economies from oil. In short, it is better for the EU if these "oil monarchies" are stronger rather than weaker.
Belyi points out the possible risks associated with a newly introduced notion of a 'geopolitical European Commission'. A carbon tax could be seen as protectionism and raise tensions if it affected investment protection laws. The Energy Charter has been criticised as it protects energy investments in fossil fuels as well as in renewable energy and some environmentalist groups want to have the sunset clause removed – it protects investors for 20 years even after their country has withdrawn from the Treaty.
The liberal economic order is built on the neutrality of law which should not change when the government does. If not, one risks ending up with a Soviet style logic of law, where everything – freedom of speech, of association and so on – was permitted only if it were compatible with the political purpose of building communism.
Some critics of the Energy Charter investment regime use similar thinking: they want investment protection to satisfy the political goal of decarbonisation. "We shouldn't forget that a shift to cleaner fossil fuels and the modernisation of conventional energy systems are still key in the energy transition around the world and, therefore, an international investment regime needs to be expanded and reinforced instead of being weakened," Belyi concludes.
William Powell