Norway's 2017 Gas Exports 'Highest Ever' (Updates with NPD totals)
Updates with total Norwegian data from the NPD, in italics
Norwegian state gas infrastructure operator Gassco said 2017 gas volumes transported by pipe abroad were the country's highest ever, at 117.4bn standard m3 (11.35bn ft3/d).
That figure excludes LNG shipments from the Snohvit plant in Arctic Norway. But the Norwegian Petroleum Directorate (NPD), the country's upstream regulator, said total Norwegian gas sales, so including Snohvit LNG, were 124.21bn standard m³ (12.01bn ft3/d), a new Norwegian gas sales record, and 6.6% higher than the forecast it made a year ago for 2017 gas sales
The Gassco 117.4bn m3 figure was 8% higher than 2016, itself a record, and "set a clear record in volume terms for the four decades since Norwegian gas exports began," said Gassco January 11.
CEO Frode Leversund said: "This performance demonstrates the key role played in European energy supply by Norway's gas exports [which] currently cover about a quarter of Europe's gas consumption and will remain a secure energy source for consumers there in the years to come." Gassco did not split out the volume by deliveries to Norway's four primary markets.
It did however say its system achieved average regularity of 99.48% last year. Gassco runs pipelines, process plants in Norway, and terminals in Germany, Belgium, France and the UK on behalf of their public-private owner, the consortium Gassled.
Deliveries of natural gas liquids (NGLs) and condensate from process plants at Karsto and Kollsnes in western Norway were 10.2mn metric tons in 2017, up from 10mn mt from in 2016. Gassco took over responsibility at a third process plant, in Nyhamna, from Shell by prior agreement October 2017. Natural gas processed at Kollsnes increased from 41.8bn to 47.1bn m3 gas from 2016 to 2017.
Gas forecast to remain about half Norwegian production in 2023
NPD chief Bente Nyland said: "Never before has so much gas been sold from the Norwegian shelf as was the case in 2017. Oil production was down slightly; nevertheless, overall production rose for the fourth straight year." She said NPD forecasts that overall Norwegian production will continue to grow out to 2023 – at which point, gas would account for about half of production.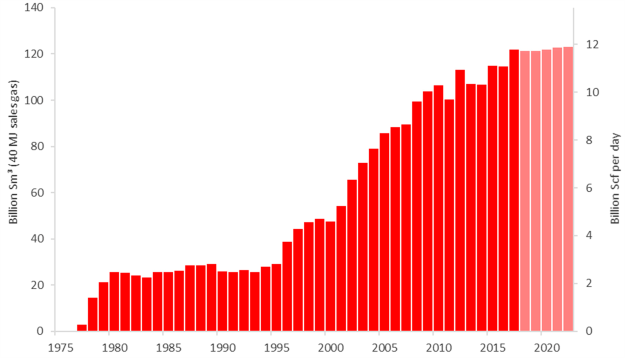 Norwegian total gas sales from launch in 1977 to last year's record (Credit: NPD)
NPD said that 2017 gas sales -- of 124.2bn m³ (12.01bn ft3/d) -- were higher than it forecast, due in part to "consistently high demand for gas from Europe" and that several Norwegian fields increased gas production; it said its forecast was for a minor increase over the next five years.
Norway also produced 1.59mn b/d oil in 2017, down 2% from 1.61mn b/d in 2016, added NPD, because of the unplanned maintenance shutdown on the Eni-operated Goliat field; in 2018, NPD forecasts 1.55mn b/d.
Overall Norwegian petroleum production (so including gas, oil, NGLs and condensate) was up for the fourth consecutive year in 2017 at 236.4mn standard m³ of oil equivalent, an increase of 6.3mn m³ oe (or 2.7%) over 2016. It is expected to decline slightly to just under 233mn m³ oe in 2018, but resume growing again from 2020 to 2022.
Gas sales are forecast by NPD to represent 52% of Norway's petroleum production in 2018, easing to 48% in 2022.

Norwegian forecast production (incl sales gas) by NPD