Global Gas Trade to Grow 65% by 2040: Qatar's Al-Sada
The annual volume of the global gas trade is expected to increase from around 1,000bn m3 currently to 1,650bn m3 by 2040; an absolute growth of 65%, Mohammed Bin Saleh Al-Sada, Qatar's minister of energy and industry said during his keynote speech at fifth IEF-IGU Ministerial Gas Forum held in New Delhi December 6.
Most of this trade will be carried by sea, in the form of LNG and its trade is expected to grow annually by at least 3% which will allow it to represent a share of about 40-45% of global gas trade by 2040, he added.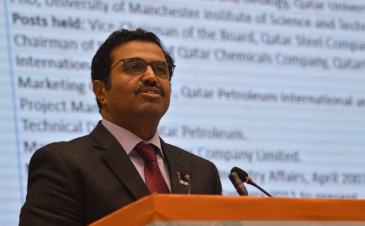 Mohammed Bin Saleh Al-Sada (Credit: Petrotech)
LNG trade
In terms of LNG supply, global LNG after reaching around 250mn mt/yr in 2015, is expected to surge this year due to incremental volumes brought to the market. "Asia continues to dominate LNG imports while Europe, the second market for LNG imports, increased LNG volume for the second year as domestic production declined and coal to gas switching took place in the region, driven by rising environmental awareness. The outstanding new emerging LNG demand came notably from the Middle East, particularly driven by LNG imports by Egypt and Jordan," Al-Sada said.
Asia will continue to account for more than 70% of the global LNG trade. Currently, low prices, growing environmental concerns and favorable energy policies are driving a robust gas and LNG demand mainly observed in China, India, Taiwan, and Pakistan. "These four countries are set to contribute substantially to reach the balance in the global LNG market over the next five years."
China in particular, the third largest LNG importer in the world, may significantly increase its natural gas use as the Chinese government is determined to reduce pollution and increase natural gas share in its energy mix. It is very likely that this largest economy in Asia will overtake South Korea as the world's second largest importer of LNG in the near future. Likewise, in India, currently the fourth largest LNG importer, is likely to more than double its gas import capacity.
Demand-Supply outlook
According to Al-Sada, the short-term outlook foresees a lower growth rate in 2016, where gas demand will average approximately 3.55 trillion m3 registering an average growth between 1.4% and 1.5% compared with last year. This modest growth is mainly driven by non-OECD economies, primarily China and India. In 2017, it is expected to experience further growth as the economic conditions improve, he added.
On natural gas production, Al-Sada said it is expected to average approximately 3.6tn m3 in 2016, slightly above the 2015 production levels. "For the long-term perspective, The Global Gas Outlook 2040 of GECF predicts that, the coming 25-year period is expected to see strong growth for gas demand. The global gas production is required to increase by almost 50% by 2040, posing therefore, many challenges in terms of capital investments for the gas supply industry."
ExxonMobil's Outlook to 2040, published last week, was also bullish for gas's outlook. It forecast that gas demand will expand significantly, accounting for about 40% of the projected overall growth in global energy demand between now and 2040. It also forecast that from 2015 to 2040, global energy demand would increase by about 25% – roughly equivalent to the total energy used today in North America and Latin America
Shardul Sharma