Bulgaria's Quest for a 'Hub' Draws Major Interest
In early September about 17 international energy companies will come together to discuss a Balkan gas hub concept promoted by the Bulgarian government and supported by the European Commission (EC), the government said.
The stakeholder investor roundtable meeting in Varna September 5-6 is organized by the Bulgarian authorities and the EC. Energy giants from Europe – including UK BP, Austrian OMV, Russian Gazprom, Greece's Depa, Azerbaijan Socar and Germany's RWE – as well as US Cheniere Energy – will attend, according to reports.
Bulgaria's prime minister Boyko Borisov proposed the gas hub, to be built near the city of Varna, days after Russia scrapped the Gazprom-led South Stream pipeline project over objections from the EC, suggesting a different idea of what a hub is from the conventional, virtual trading point such as the Dutch title transfer facility.
The 63bn m³/yr South Stream line was designed to deliver gas from Russia to Bulgaria and further to Europe – to Serbia, Hungary and Slovenia, but Bulgaria was found in breach of European Union rules on procurement.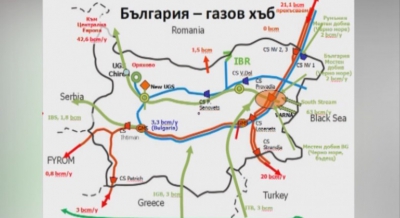 Balkan gas hub scheme (Credite Bulgaria national TV)
The ambitious new project foresees gas in the hub to be supplied from Russia, Azerbaijan and Turkmenistan as well as from Bulgaria and Romania, Borisov said at a high level energy meeting in Sofia last February. According to him, the government and the EC are jointly developing the project and securing funding for it.
He said Bulgaria would need about €2.2bn to build the hub, which besides the pipeline gas can distribute LNG from terminals in Greece. During a visit to Varna August 6, Borisov told reporters that "steps have been made to find investors for Balkan gas hub, a future distribution centre on the Bulgarian Black Sea coast for delivering gas to Europe received from various sources."
Aiming to support the idea and to diversify its gas supply Sofia has been making efforts to build gas links with neighbouring Greece, Romania, Serbia and Turkey, the government says. As part of the plan Borisov also sees an option to resume a "shorter version of South Stream", without giving more details but possibly referring to the planned sub-sea line from Russia directly to Bulgaria.
Borisov and Russia's president Vladimir Putin have discussed over the phone the creation of working groups to review joint energy projects, the government said August 6. "The working groups will discuss opportunities to resolve problems related to those projects in accordance with the European Union regulations," they said, adding that South Stream was among those projects.
Putin said: "after suffering certain losses," Russia needed "rock-solid legal guarantees" to return to the South Stream project. "We see that the Bulgarian side would like to return to this project... But intentions alone are not enough," he said at the press-conference August 9 after meeting with Turkey's president, Recep Tayyip Erdogan, Interfax reported.
EC president Jean-Claude Juncker said that the EC continued to work on the development of the Balkan gas hub, which may well include the supply of Russian gas, but only if it "fully complies with EU competition rules," according to his letter distributed by Bulgaria's PM office August 4.
EC President Jean-Claude Juncker and Bulgarian PM Boyko Borisov, June, 2016 (Credit AFP)
Meanwhile, Gazprom is shutting down the department in charge of South Stream. About 100 employees were given two months to find a new job, RBC reported this week. According to department head Leonid Chugunov, this is a routine restructuring.
The project management department was established in 2009 to oversee the construction of the South Stream pipeline which, in December 2014, was replaced by Turkish Stream.
According to sources, for the past year and a half the department oversaw work on Turkish Stream and negotiated with South Stream partners and contractors on "unresolved issues." For example, the offshore contractor Italy's Saipem is trying to extract €759mn as penalty payment from Gazprom for the early termination of the contract and the work already done.
Kama Mustafayeva