Chinese Belgian grid vote looms
China's State Grid Corp won a tender this year to buy 14% of Eandis, Belgium's biggest gas and power distribution grids, through its subsidiary State Grid Europe. Shareholders are to vote on the deal October 3, and it is likely to be a lively event.
From the board's viewpoint, the Chinese choice was a no-brainer. Sgel had easily outbid other tenders such as the Dutch and Australian pension funds APG and Australian Super/IFM by offering €830mn ($930mn), 71% more than the €484.5mn book value for 14%.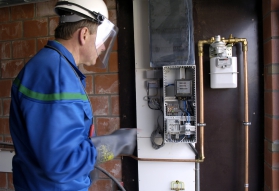 Eandis operator (Credit: Eandis)
Eandis operates the electricity and natural gas grids and a few district heating grids in about 80% of the towns and villages in Flanders, the Dutch-speaking part of Belgium. Until last year, energy concern Engie owned 21% of Eandis but European Union law requires energy producers and suppliers to dispose of their stakes in energy transport and distribution. Belgian law applies this from 2018. Few of the other shareholders – towns, villages and the province of West Flanders – were keen to buy Engie's shares, however.
Opposition to the deal has become organised and alternative schemes have been put forward, including creating a co-operative, to keep all the profits in Belgium. But Eandis needs to invest and nobody else has come forward with such a large sum.
Koen Mortelmans
For more on this and other European energy investment news, please see the forthcoming issue of Natural Gas World, published on alternate Wednesdays.