Azerbaijan's Gas Export Revenues Down 35.5%
Azerbaijan exported 6.754bn m³ of natural gas in 2016, about 19.9% less than the previous year, while revenues of $970mn were down 35.5% thanks to lower gas prices.
According to statistics, released by the state customs committee it exported 8.432bn m³ in 2015.
The customs committee pointed out that last year the gas exports accounted for 10.62% of the state's income from exports, compared with 11.82% in 2015.
In 2016 the country produced 29.4bn m³ of gross gas, almost unchanged year-on-year; but the country increased gas re-injections at the Azeri-Chirag-Guneshli block (AGC) to maintain oil production level in 2016.
Recently, Khoshbakht Yusifzade (pictured) the first vice-president of state-run oil company, Socar, said that the country had exported 5.9bn m³ of gas to Georgia and 43.8bn m³ to Turkey cumulatively by means of the South Caucasus Pipeline as of January 1.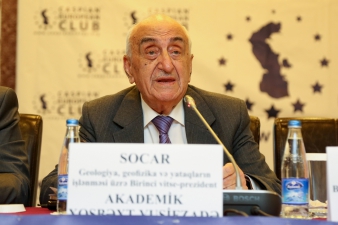 (Credit: Socar)
Two major sources, Shah Deniz field and AGC have produced some 78.4bn m³ and 128.2bn m³ since 2006 and 1997 respectively, he added.
Gross gas production in the country is expected to stand at 28.39bn m³ in 2017, he added.
Azerbaijan desk